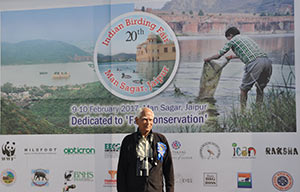 Harsh Vardhan, organiser of Indian Birding Fair
A leading wildlife expert in India. He is the main organiser of Indian Birding Fair (Jaipur's Mansagar Lake), and was singularly responsible for saving the Indian Bustard species being hunted through falconry during the late seventies by the Arab Sheikhs.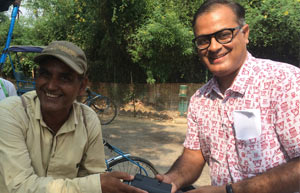 Manoj gifting OPTICRON bin to Satyabhan at KNPark (2016)
He manages VIGT, working as self-employed in tourism since early 90s. He has visited UK and Europe several times. He is annually present at the British Bird Watching Fair (Rutland) to offer consultancy on the spot. He often escorts guests to provide his personal services.