We will be visiting three  most exciting Tiger Parks on this tour, Kaziranga, known for its aquatic marsh-grassland habitat served by the mighty Brahmaputra River, Nameri, known for Himalayan birds, and Tadoba, known for its impressive sightings of a few rare mammals. India has as many as 52 Tiger Reserves, of these about six are visitor friendly.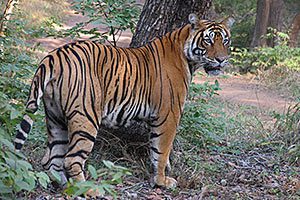 01 Day. New Delhi. On arrival, we are received by VIGT representative (placard of our name in hand) at the exit-gate. Transfer (5 min.) to the ideal place near airport. Rest. A driver and a car are for use and we choose which locations to visit – Qutub Minar (minaret), Lotus Temple, Humayun's Tomb, Red Fort, Jama Masjid (Big Mosque), Gandhi Memorial, India Gate, etc ., (entry to monuments closes at 5 pm). Return hotel. Overnight.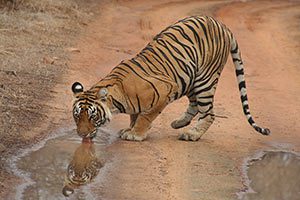 02 Day. New Delhi/fly to Guwahati/Kaziranga. Check out. Transfer to airport (5 min.) to board flight and reach Guwahati (after two hours).  Note: At check in, we need to inform the airport desk to give us seats on left window-side to enable us observe the Himalayas while flying.
The driver will meet us at Guwahati airport with name-placard. Drive (4.5 hrs) and reach Kaziranga, we are likely to get first glimpse of the One-horned Rhino prior to reaching the park, from left side of the car. We check in to Iora – The Retreat resort, spread over a large green area on slopes of hills. The reception desk will inform time of start of jeep safari for us. Rest.
A Nature Guide and driver will meet us at the hotel to do our first jeep safari in Kaziranga, about three hours, as per the park norms. There are three tourism zones in Kaziranga: Central zone, (Kohora), Western zone (Bagori) and Eastern zone (Agaratoli). The Guide will inform us which one to be visited today.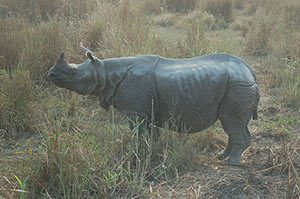 03 Day. Kaziranga. We will have morning safari at an early hour, may be start at 5 am in same jeep with same Guide and driver to report at the Elephant Camp and enjoy elephant ride in the open grass land habitat to explore Rhinos, Deer, Wild Boars, etc., for about an hour. It will be most thrilling experience through tall grass and wild animals appearing through the morning mist getting cleared as sun will start shining soon.  The Elephant driver will be friendly and move the Elephant in different sides to let us have best opportunities to observe and photograph, mammals, to be about 3 to 5 meters away below our feet. We return the camp, thank the Elephant man and reach hotel for breakfast.
Post breakfast, we have a safari, can be in the same zone to scan the varying habitat, thick with huge trees and dotted with grasses with occasional water bodies and streams. Lot of mammals all around and low sun light during morning can be ideal for photography. The Guide will help us locate smaller deer. Return hotel. Rest and lunch. We will have afternoon safari in a different zone, may be western to experience different set of mammals, including Elephant and Gaur. Overnight.
04 Day. Kaziranga. As above, we will have morning and afternoon safaris in both the zones, western and central. The Guide obtains information daily on sightings in various areas and will suggest us where to go, usual practice. Overnight.
05 Day. Kaziranga. On this day, we like to devote morning session to Gibbons. So it will need to be a full day long excursion. We have early breakfast and carry packed lunch. Drive about two hours, later part all through dense forest to be in a zone which is the  Gibbon habitat, we may listen to its piercing calls on way (hooki, hooki, hooki). The driver-guide combination will be on test here to let us observe the Gibbon, male or female, moving amidst tall tree branches. Entire forest echoes with their calls. Morning hours are most ideal to have this encounter.
We  return and have our packed lunch at a road side restaurant.  After this we like to have afternoon safari in the eastern zone (Agaratoli) to finally appreciate natural wealth of this vast aquatic habitat.  Loads of mammals and birds will be all along, some crossing the dirt track. Return to hotel. Overnight.
06 – 07 Days. Kaziranga/Nameri. Drive (2 hrs) and reach Nameri Park, the haven for Himalayan birds, to stay in a modest cottage set in wilderness. We go for rafting in Jia Bhoreli river to locate water birds. Some rare species will be at hand shaking distance as to be observed from a watch tower. Walking is lone way to bird here. Overnight.
08 Day. Nameri/Guwahati/New Delhi. We drive (2 hrs) to Guwahati in time to board flight. Reach New Delhi in evening. Transfer (5 min.) to same hotel, Shanti Palace. Overnight.
09 – 11 Days. New Delhi/fly to Nagpur/Tadoba. Transfer (5 min.) New Delhi airport in time to board flight and reach Nagpur (after 2 hrs).  A driver with name-placard will meet us at the exit-gate. Drive (03 hrs) and reach Svasara Resort located by the side of the one of the main gates of The Tadoba Tiger Reserve.
We will have morning and afternoon jeep safaris in Tadoba Tiger Reserve, assisted by a Nature Guide and driver. Tadoba has two tourism zones – core and buffer. We will be concentrating in the core area only to gain the maximum advantages of wildlife and will be assisted by the Guide.  We will like to concentrate on the Wild Dogs here and guide-driver combination will try and do the best. We are likely to observe Small Indian Civet, and Rusty Spotted Cat as well in Tadoba. Overnight.
Tadoba/Nagpur/Delhi.
After our morning safari, we will have time to explore the vast forest area within the resort(where some mammals and birds breed) and then drive (3 hrs) to reach Nagpur airport in time to board evening flight. Reach New Delhi (after 2 hrs). Transfer (5 min.) to Hotel Shanti Palace. Overnight.
New Delhi/Fly. 
Transfer to airport to board flight back home. Farewell.
Note: Some unique flexibilities favour VIGT guests:  all departures to suit guests' dates-duration, and even changes in the itinerary will be effected while guests will be actually touring. The 'advance-deposit' with VIGT is not 'forfeited' if the tour is cancelled by guests.