India is a mega-diversity country, among the top ten nations, endowed with the world's richest biodiversity. It represents about 7% of the world's flora and 6.5% of the world's fauna, recording 614 species of amphibians and reptiles, 1,225 species of birds, and 350 species of mammals. Of these, 173 species of mammals, 78 species of birds and 15 species of reptiles are considered threatened.
There are more than 700 National Parks and Sanctuaries in India. Birds are found all around, in towns or around our resort-room. The tour offers some rare and endemic birds of the Western Ghat region in India as we will drive up and down various hills and plateaus to cover Periyar (Tiger Reserve), Munnar, Top Slip and Thattekkad Sanctuary and towns amidst forests. A visit to Ooty and ride in the Nilgiri Toy Train will be added attractions besides a backwater safari. Authenticity at its best!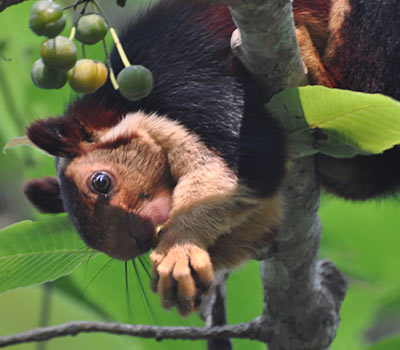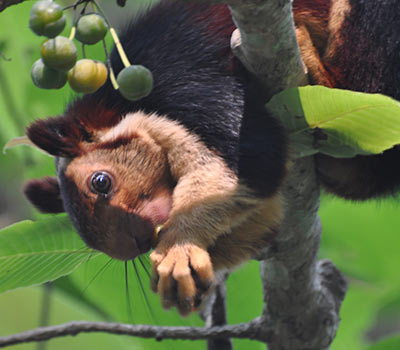 01 Day. Kochi.
An executive meets us at the airport and we receive our welcome pack. Transfer to a nice hotel. Overnight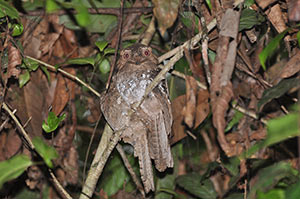 02 Day. Kochi/Backwater.
Drive (100 km, about 2 hrs.) and start backwater safari (mid day) in this area (Alapuzza). A cook and attendant will serve us. The boat will pass through traditional paddy growing villages and we will be amidst green plantations all around. We will see a variety of water birds from boat itself. Overnight in an a/c boat (1 N).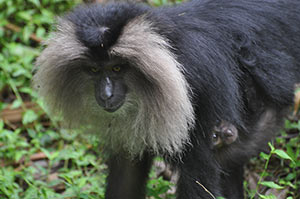 03 – 05 Days. Backwater/Periyar.
Leave boat by 10 am. Drive up hill (130 km, about 3 hrs). Bird watching in Periyar in the afternoon. Overnight (3 nights) at ahillt op resort. Periyar is the focal zone for bird specialties of the Western Ghats, as well as resident hill species and migrant birds. The low lying plains on three sides add to its variety. Potential birds include: Velvet-fronted Nuthatch, Bronzed Drongo, Greater Racket-tailed Drongo, Orange [now split from Scarlet] Minivet, Great Tit, Jungle Babbler, Rufous Treepie, Yellow-browed Bulbul, [Malabar or Common Woodshrikes rather than Large Wood Shrike], Ashy Drongo, Small Minivet, [Common, Black-rumped, White-naped and Greater Flameback Woodpecker rather than Goldenback Woodpeckers], White-bellied Treepie, [Pale-billed, Nilgiri and Thick-billed Flowerpecker], [Indian Golden, Black-hooded and Black-naped Oriole], Asian Fairy-bluebird, Gold-fronted Leafbird, [Coppersmith, Malabar, White-cheeked and Brown-headed Barbet], various Phylloscopus (Leaf) warblers and Flycatchers, Brown-cheeked Fulvetta, etc. Bird Guide will be available.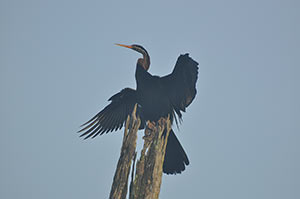 06 – 08 Days. Periyar/Munnar.
Drive (140 km, about 3 hrs). We reach Munnar in afternoon. Overnight (3 nights). Munnar is a hill station in Kerala and is known for some endemic species in the Western Ghats. Six of the total 16 endemics can be seen around Munnar (a further 9 can be found in Thattekkad and 1 in Ooty). We will stay at Munnar and birdwatch throughout the area. The shola-grassland eco-system is typical of Munnar. Potential species include: Nilgiri Woodpigeon, Nilgiri Pipit, Grey-headed Bulbul, Black-and-orange Flycatcher, Indian Broad-tailed Grass-warbler, Small [formerly Crimson-backed] Sunbird, Grey-breasted [now Kerala] Laughing Thrush, Nilgiri Flycatcher, Indian Rufous Babbler, Whitebellied Blue Flycatcher, [White-bellied Blue Robin Myiomela albiventris (formerly White-bellied Shortwing) occurs here], White-bellied Treepie and the Wyanad Laughing Thrush, etc. Eravikulam National Park is located nearby. It is a plateau high up in the mountains of the Western Ghats. This park was originally established to protect the Nilgiri Tahr.
09 – 11 Days. Munnar/Valparai
Drive (about 5 hrs) through Chinnar Sanctuary. It is a thorny scrub forest in the rain shadow region of the Western Ghats and is home to the Grizzled Giant Squirrel. Birds expected here include: White-naped Flameback, Jerdon's Baza, Large Grey Babbler, White-bellied Woodpecker, Rain Quail, Blue-breasted Quail, White-rumped Shama, Streak-throated Swallow, Grey-breasted [now Kerala] Laughing Thrush, Speckled Piculet, Blue-bearded Bee-eater, Sirkeer Malkoha, Indian and Oriental Scops Owls, Indian [rather than Eurasian] Eagle-owl, Black Baza etc.
Reach Top Slip in evening. It is part of the Indira Gandhi National Park, located between the Anamalai Ranges of Tamil Nadu and the Nelliampathy Ranges of Kerala in the Western Ghats. It is also part of the Nilgiri Biosphere reserve which includes a sanctuary formerly known as Anamalai Wildlife Sanctuary. The habitat varies from the dry deciduous to the semi-evergreen, evergreen and the wet temperate forest containing teak, rose wood and many miscellaneous tropical species. Birds found here include Tickell's [now Pale-billed} Flowerpecker, Rufous Woodpecker, Asian Fairy-bluebird, Rose-ringed Parakeet, Black Eagle, Great Pied and Malabar Pied Hornbill, Greater Racket-tailed Drongo, Asian Paradise Flycatcher, Malabar Whistling-thrush, Emerald Dove, [Grey-fronted, Orange-breasted and Yellow-footed Green-pigeon], Black-hooded Oriole etc.
We like to explore to observe endemic and near-endemic species such as: Malabar Grey Hornbill, Malabar [formerly Crimson-throated] Barbet, Yellow-browed Bulbul, Malabar Woodshrike, Wyanad Laughingthrush, Black-throated Munia, Dark-fronted Babbler, White-bellied Blue Flycatcher and the White-bellied Treepie. Others potential species include: Great Pied Hornbill, White-bellied and Heart-spotted Woodpeckers, [according to Rasmussen neither Lesser nor Greater Yellownape occurs in South India], Greater Flameback, Red Spurfowl, Indian Pitta, Puff-throated Babbler, Orange-headed Thrush. Among the owls are Oriental and Indian Scops Owls.
This forest is home to Liontail Macaque, Bonnet Macaque, Common Langur, Nilgiri Langur, Malabar Giant Squirrel [Indian Giant Squirrel Ratufa indica] and Grizzled Indian Squirrel, as well as Tiger, Gaur, Pangolin, Sambar, Spotted Deer, Barking Deer, Mouse Deer (Indian Spotted Chevrotain), Wild Boar, Sloth Bear, Porcupine, and Nilgiri Tahr.
12 Day. Top Slip/Coonoor/Train/Ooty.
Drive early (170 km, about 5 hrs) to reach Coonoor in time to board the Nilgiri train (at noon). Reach Ooty after an hour. Transfer to hotel for an afternoon of birding. Overnight (1 night). Ooty is a hill station located in the Nilgiri Hills and stands at 7,440 feet. Small fringe forest in the sholas (patches of evergreen forest) has been conserved around Cairnhill Reserved Forest, Naduvattum, Muthorai and the Botanical Gardens. Species that we will search for here include Nilgiri Flycatcher, Nilgiri [now Black-chinned] Laughingthrush, White-bellied Shortwing [now Nilgiri Blue Robin].
13 – 17 Days. Ooty/Thattekkad.
Drive (230 km, about 6 hrs) and reach Thattekkad, the ideal bird watching zone in the Western Ghats. Stay in a tent camp. Overnight (4 Nights). Thattekad Bird Sanctuary is also known as the Dr Salim Ali Bird Sanctuary and is the richest bird habitat in peninsular India. Much of the forest has been converted to agricultural and plantation purposes, but the surviving habitat offers great bird diversity with more than 270 species in a relatively small area of 25 sq km. Nine endemics are found here including the rare Mottled Wood Owl, Spot-bellied [now Forest] Eagle-owl, Malayan Night-heron, Sri Lanka [now Ceylon] Frogmouth, Rusty-tailed Flycatcher, Grey-headed Bulbul and Nilgiri Woodpigeon. A knowledgeable bird guide will lead us here.
18 Day. Thattekkad/Angamali Airport.
Drive (45 km, about 1.5 hrs) to reach Angamali, the international airport for Cochin, to board flight back home. Farewell. This itinerary is edited by Mr. Stephen Dean.
Note: It is a model itinerary. It will be worked out through discussions with guests about destinations, target-species, hotels, night-stay, departure-schedule etc., so that the detailed agreed final itinerary is developed for implementation. Extension to Corbett-Bharatpur, Kaziranga-Nameri, Eaglenest, both the Ranns of Kutch, Thar Desert, Western Ghats in South India, other Tiger Parks, Cultural sites, etc., will be offered on receiving a word. The 'advance-deposit' with VIGT is not 'forfeited' if the tour is cancelled by guests. Lot of flexibility favours VIGT guests: all departures to suit guests' dates-duration, and even changes in the itinerary are effected while guests are actually touring.