The rich wilderness tapestry nursed through long cultural traditions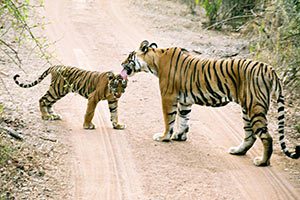 01 Day. New Delhi/Train/Agra (02 nights).
We are received (about 11 am) at the airport by a person and we get our Welcome pack containing the agreed itinerary, vouchers, train tickets, etc, with telephone numbers and other contact details so very important on this tour. Transfer to station  to board connecting a/c train. Reach Agra (after 2.5 hrs). The driver will meet outside coach and transfer (5 min.) to a nice hotel. Overnight.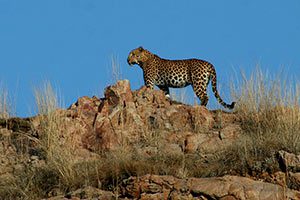 02 Day. Agra.
At own time, we visit the Taj Mahal – sun rise and sun set hours. Visit Red Fort and Fatehpur Sikri during the day and have exclusive time off. Overnight.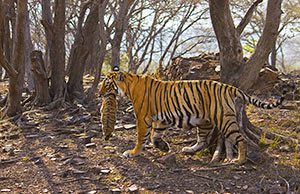 03 Day. Agra/Dholpur/Bharatpur.
Early breakfast, check out and drive (45 min.) and reach the Chambal river (Dholpur town, south of Agra)  to have an exclusive boat ride (an hour) to photograph rare Indian Skimmers which breed here. Also observe Gavial, Marsh crocodile, tortoises, and nearly 50 species of birds, a few waders very rare. All species to be at about a few meters away only. After the boat ride, we walk on the river bank to explore more birds. Visit the Dholpur Palace for lunch where we enjoy about 30 different bird species within the Palace garden. We drive (15 min.) to visit Talab-i-Shahi village water body to have more birds, including the Indian Sarus Cranes feeding in agriculture fields. Drive (1.5 hrs) and reach Bharatpur in evening to stay at the ITDC Forest Lodge, located inside the Keoladeo National Park, the only resort inside. Overnight.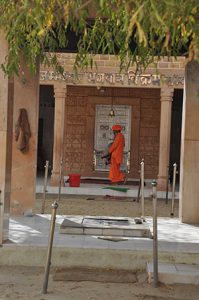 04 – 05 – 06 Days. Bharatpur (4 nights).
Day long bird watching, using a bicycle rickshaw and a knowledgeable guide. We are allowed to walk all over in this park. It has brim full water this season (2016 – 17), thanks to the flow of Gambhir River. Hence wonderful time here. The park is divided among several blocks to maintain level of water which have tiny islands having Acacia nilotica trees, over which resident species breed and ducks float over water. The guide will assist to locate eagles, owls, nightjar and python. Jackal will be around. We like to drive to Bund Baretha to photograph Bats (optional) and some new birds (4 hr long duration). One day we like to explore land birds (not found in KNPark) in a northern habitat, surrounded by agricultural fields (Indian Courser). Overnight in a resort located inside this park, a unique feature.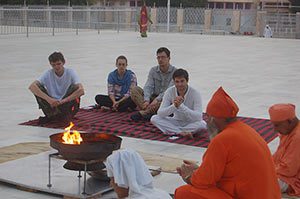 07 Day. Bharatpur/Train/Sawai Madhopur (3 nights)
Transfer to station to board a/c train at 10 am., assisted by the guide. Reach Sawai Madhopur at 1 pm. Transfer (5 min.) to a resort and we will have our first safari in Ranthambhore Tiger Park (2.30 – 6 pm). Overnight.
08 – 09 Days. Sawai Madhopur.
We will have  morning (6.30 – 10 am) and afternoon (2.30 – 6 pm) safaris in this noted tiger park to be face to face with variety of wild animals: Spotted Deer, Sambar Deer, Bluebull, Wild Boar, Indian Gazelle, Crocodile, numerous birds all around besides Sloth Bear, Leopard and Tigers. Alarm calls of deer and monkies will convey where about of tigers, possibilities of observing a tigress with cubs.  We will drive over different tracks and pass by three lakes inside the park, assisted each time by nature guide and driver, both well crafted in spotting wild cats. (total 5 safaris).
This park boats of 55 – 60 tigers (including cubs and sub adults) presently in its 392 sq. km area, in which all these cannot be accommodated. A tiger needs 10 – 12 sq. km area to live, it is a lone ranger and comes in proximity of a female only while it mates her and soon after the mating is over (may take a week to a month), the tigress gets separated. The dominant male tigers cannot tolerate sub adult and adult tigers in their own territories, and, therefore, drive them out of the park – not allowing them to mate with the existing females, considering them as the males' harem (it saves tigers from immediate inbreeding in a way). Such young tigers move out and through the corridor where we are to spend one night. Good learning curve about their movements.
10 Day. Sawai Madhopur/Tiger Periphery (01 night). 
On return from our morning safari, we will like to spend last day-night at a cottage created in countryside to experience truly non-hotel life. It will offer us  walks along the northern corridor of this Tiger Reserve (connecting with Keladevi Sanctuary), where the excess population of Tigers move out through this corridor. It will be to try and understand the mystery of Tigers exiting Ranthambhore, crossing over the Banas river and going towards North-East:  around villages to live in less wooded areas. We will hopefully meet a shepherd who has been given cellphone and nocturnal-camera device to track Tigers going astray, which will be a wonderful way to understand authentically.  The shepherd has (cellphone) photo evidences of other animals also found across the corridor. We can expect here hyena, jackal, mongoose, and numerous birds. It will be an opportunity to be amidst rural and tribal people who live along with tigers and face the difficult challenges as the mammals are conserved.  Overnight.
11 Day. Sawai Madhopur/Train/Jaipur (01 night).
A walk in the bed of the river can be rewarding for birds and to spot pug marks of animals that lived here last night.  We spend entire forenoon in countryside, along the river bed and in a portion of the village, and have lunch. Transfer (30 min.) to station to board a/c train at 2 pm. Reach Jaipur at 5 pm. Transfer (5 min.) to a resort. Overnight.
12 Day. Jaipur/Tal Chhapar (01 night).
Start driving (5 hrs) and reach Tal Chhapar, a tiny sanctuary for Blackbucks. A walking experience in this grass land habitat teeming with antelopes, ground birds and some birds of prey, the Tawny Eagle breeds here. We spend entire day.  Overnight at forest rest house, located at the gate of this reserve.
13 Day. Tal Chhapar/Bikaner (01 night).  
We have another visit in Tal Chhapar, at ease, for sunrise photography of antelopes and birds.
Lunch. Drive (2 hrs) and reach the municipal dump site to be amidst a large number of Eagles (Steppe), Vultures (Himalayan Griffon, Eurasian Griffon, Cinereous, Egyptian, etc) and some rare birds (like Yellow-eyed Pigeon). From vehicle itself, we will have stunning photography. Welcome to walk around, be aware of feral dogs, the driver will take care with a stick in hand. It is an experience to believe!
Drive (15 min) to reach Bikaner in evening to stay at a heritage mansion, a much different but delightful experience. Overnight.
14 Day. Bikaner/Jodhpur (02 nights).
We drive (30 min.) to visit Karni Mata temple (along the road) where rats roam around, good photography. It is then in to Bishnoi habitat: we drive (30 min) to visit Mukam, final rest place for Lord Jambheshwar (the god of Bishnoi community) to visit the marble dome. Visit Samrathal sand dune, created by this lord where Indian Gazelles are around.
Drive (5 hrs) and reach Jodhpur in evening. Overnight at a nice hotel.
15 Day. Jodhpur.
Day  long excursion in to countryside to  explore Demoiselle Cranes, stopping at the place where 363 Bishnoi men-women had sacrificed their lives in 1730 to save Khejri trees (Prosopis cineraria), hand-feed Indian Gazelles at a Bishnoi temple at Jajiwal sand dune – what experience it can be. Wild Gazelles roam around all Bishnoi villages as they know they are better protected there than elsewhere. We meet the priest to know about Bishnoi traditions and photograph his life. Lunch with a Bishnoi family and spend time in their village. Return hotel. Overnight.
16 – 18 Days. Bera (03 nights).
Drive (3.5 hrs) and reach Beda  to stay at a tiny resort located in countryside adjoining the granite hills where leopards live. Morning and afternoon, we will go in a jeep to various hills to locate leopards, may be couple of them are observed from our room itself.  There is no wild prey for this mammal here, so they survive on sheep. The shepherds are friendly and do not mind the loss! We will visit villages to meet shepherd families – photography.
On last day, we will visit Jawai Dam to observe birds and walk as near to them as possible, the driver will assist.
19 Day. Bera/Ranakpur/Udaipur. (02 nights).
Drive (1 hr.) and reach Ranakpur, to observe an ancient Jain temple (Jain religion practices non vegetarian living), made of marble where no two columns (pillars) are similar. A wonder, in a way. Drive (2.5 hrs) and reach Udaipur in evening.  Overnight in a hotel.
20 Day. Udaipur.
Day long excursion in this lake city to observe its heritage architecture like the City Palace, and a walk in traditional town, Jagdish Chowk, visiting Bagor ki Haveli (an imposing old mansion) over looking Pichhola lake, which houses an incredible museum of turbans, art, craft, etc. Afternoon can be devoted to a garden (of girl friends), Pratap Memorial (Pratap was a ruler who fought against the Mughal emperor, Akbar to maintain freedom of this Mewar region) and finally at the Fateh Sagar lake. Overnight.
Note: We will hand over our extra baggage to a person in Udaipur this evening so that he will carry it by train to New Delhi to hand over to us in New Delhi hotel (domestic flight may not allow too heavy baggage).
21 Day. Udaipur/New Delhi.
At ease in morning. Transfer to airport to board flight mid day. Reach New Delhi (2 hrs flight time). Transfer to a hotel. We receive our baggage here. Overnight.
22 Day. New Delhi/Fly
Transfer to airport to board flight back home. Farewell.