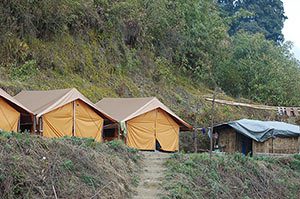 Kanchenjunga National Park is spread over about 1,784 sq km., area. It is the largest amongst all the high altitude protected areas in India's East Himalaya region. The park is bounded in the north by the Tent Peak and the ridge of the Zemu glacier. The eastern boundary of this park comprises the ridge of the Mountain Lamaongden. Its southern boundary includes Mount Narsing and Mount Pandim. The western boundary comprises the mighty Kanchenjunga itself which is considered by the local people to be their guardian deity. The park has maintained its ecology and therefore a great attraction for its flora and fauna: Snow Leopard, Himalayan Black Bear, Red Panda, Barking Deer and many other species. It is a continuous tract of mountainous land with valleys of lush green forests, meadows, and the alpine land conserving nature. Hence there are numerous primitive wilderness sites, natural lakes, tumbling streams, flowered fields and imposing canyon. The Park has an elevation of 1,829 m to over 8,550 m., above sea level.
This beautiful trek lies in India's Sikkim State and takes us up to Goechala at 4,940 m, opposite the eastern face of Mt. Kanchenjunga, third highest peak in the world. The trail initially meanders through dense forest and, in summer, flowering orchids can be seen clinging to the bark of the highest trees. Numerous wild flowers including Potentellias, Saxifrage, Anemones and Primulas spread out in the colorful patchwork while sheep and yaks graze contentedly on the luxuriant vegetation. The mountains are at their tantalizing best – a sharp shower and the clouds lift for a few minutes to reveal the steep south face of Pandim peak. And, higher up, one can spot the reflection of Kanchenjunga in the still waters of the emerald blue lakes on the glacier.
Highest point: Goechala (5,002 M), Minimum: 02 persons, best time to visit: March – May or Sept – November.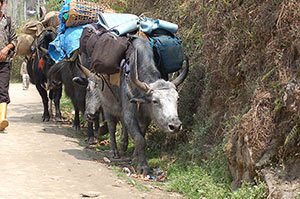 01 Day. New Delhi
An executive meets us at the airport and we receive our welcome pack. Transfer to a nice hotel. Overnight.

02 Day. New Delhi/Bagdogra/Yuksom (1,785m)
Transfer to airport in time to board flight (about 0800 hrs.). Reach Bagdogra (about 1100 hrs.). The driver meets us at the airport. We drive along narrow switchback roads, a journey, which with lunch and photo stops takes about 6 hours, depending on the condition of the roads. After passing through many small villages and lush countryside, we arrive at Yuksom. It is a scenic spot set amidst the backdrop of the Himalayas and a historical place: in 1641 Buddhism was first introduced here, and three monks from Tibet consecrated the first religious king of Sikkim here. Overnight at a nice hotel.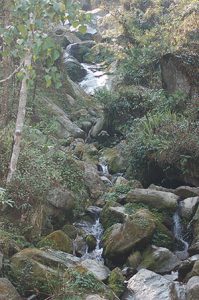 03 Day. Yuksom/Bakhim (3,005m), 12 kms/07hrs
After breakfast we commence trek. Today is a 12 kms walk to Bakhim situated among beautiful alpine plants. Sikkim's famous orchids are found here. The trail from Yuksom starts at the Bazaar and follows the only main road northwards. It climbs gently out of the valley and hugs the right bank of the Rathong Chu river. The trail crosses three bridges about 50 minutes apart from each other. Packed lunch en-route. Camping overnight.
04 Day. Bakhim/Dzongri (4,030m), 8 kms/04hra
After breakfast we will continue on the trail past the Bakhim forest bungalow and climb in a north-westerly direction through forest of Magnolia and Rhododendron. The path cuts through the village of Tsokha and continues its climb steeply northwards to Phidang (3,650m). It is the steepest part of the trek as there is little respite in the form of descents. The trail evens off a bit from Phidang before it climbs east again for Mon Lepcha, a pass which is higher than the Dzongri Trekkers' Hut. On a good day Mon Lepcha commands an exceptional view of Pandim. From Phidang to Dzongri is about 3 hours trek, but stiff walk. Packed lunch en-route. Camping overnight.
05 Day. Dzongri
At rest at Dzongri, both for acclimatization as well as to savour the great view of the mountains. A short trek to the Dzongri top can offer stunning views of Kabru (7,353m), Rathong (6,678m), Kanchenjunga (8,534m), Koktang (6,147m), Pandim (6,691m) and Narsing (5,825m). Camping overnight.
06 Day. Dzongri/Thangsing (3,900m), 07 kms/05hrs
After stepping out from Dzongri camp we will take the right trail, which climbs east up along the right bank of the river. After cresting the hill, the path drops into the valley and then crosses a bridge over the Prek Chu river. During late May-June this part of the trail is full of Dwarf Rhododendron blossoms. Thangsing, an hour's climb due north from the bridge, is located below the slopes of Mt. Pandim. Lunch on arrival. Camping overnight.
07 Day. Thangsing/Samithy Lake (4,300m), 08 kms/04-05hrs
The trail from Thangsing climbs gently north, up the valley, and follows a stream and alpine meadows. After about an hour we reach Onglathang, which has a superb view of the south face of Kanchenjunga. The trail then skirts a series of glacial moraines before crossing meadows again, and arrives at emerald green lake Samithy. Lunch on arrival. Camping overnight.
08 Day. Samithy Lake/Goechala Pass (5,002m)/Kokchorung (3,800m), 09 kms/09hrs
The climb to Goechala begins with gentle gradient eastwards for about half an hour and then, the real climb starts. The trail follows the glacial moraine north-east and then drops to a dry lake at Zemathang. A rough scramble over rocks and boulders with a rise of about 400 m will bring us to the top of the pass. The pass is formed by a depression between Pandim and Kabru spurs and, it overlooks the Talung valley and commands a very impressive view of the south face of Kanchanjunga. Packed lunch en-route. Camping overnight.
09 Day. Kokchurung/Dzongri/Tsokha, 12 kms/06hrs
From Kokchurung the trail heads towards south-east on the well-marked path for 4-5 hours, and then the trail continues sharply down to Tsokha. Packed lunch en-route. Camping overnight.
10 Day. Tsoka/Yuksom, 4-5 hrs
We step back to Yuksom on the final day of the trek. It is downhill, hence easier. Check into a nice hotel. Day at leisure.
11 Day. Yuksom/Tashiding/Darjeeling
After breakfast we drive to Tashiding, the most sacred monastery of Sikkim, famous for its Bhumchu festival when the holy vase containing the sacred water is brought out for public display. We like to spend couple of hours at Tashiding's premises to observe the Buddhists' way of worship as we are welcome to enter all holy places from inside. Drive (3 hrs) and reach Darjeeling in evening to stay at a heritage resort to enjoy bit of comfort. Overnight.
12 Day. Darjeeling
Let us enjoy the Himalayan Toy Train, a UNESCO Heritage, and morning session is ideal. Then we like to visit the Himalayan Mountaineering Institute, located within a nicely laid out Zoological Garden which displays quite a few rare mammals. We visit a Tibetan locality also. Welcome to walk in to the main city plaza to enjoy a blend of Nepali and Indian culture to interact with friendly people steeped in traditional ways. Local folk sit over benches here and while away time. Have tea at a shop. Overnight.
13 Day. Darjeeling/Bagdogra/New Delhi
Drive (4 hrs) and reach Bagdogra in time to board flight (1200 noon). Reach New Delhi in afternoon (about 4 pm). A small tour of New Delhi and transfer to airport to board flight back home (dep. midnight). Farewell.
Note: The final Itinerary will be worked out through discussions with guests for implementation. Extension to other parks like Kaziranga-Nameri, Eaglenest, Corbett-Nainital, Chambal River, Desert, Western Ghats , Tiger Parks etc., will be offered. The 'advance-deposit' with VIGT is not 'forfeited' if the tour is cancelled. Lot of flexibility favours VIGT guests: all departures to suit guests' dates-duration, and even changes in the itinerary are effected while guests are actually touring.