India is a mega-diversity country, among the top ten nations, endowed with the world's richest biodiversity. It represents about 7% of the world's flora and 6.5% of the world's fauna, recording 614 species of amphibians and reptiles, 1,225 species of birds, and 350 species of mammals. Of these, 173 species of mammals, 78 species of birds and 15 species of reptiles are considered threatened.
There are more than 700 National Parks and Sanctuaries in India. The Tiger Conservation was initiated in 1973-74, thanks to an international pressure generated: Tiger has been conserved and can be observed in the wild. It is possible to see several Tigers in the wild and photograph them through open-jeep safaris. Couple of hundred species of birds add to our wilderness experience on such a tour, with opportunities to admire India's Culture as well.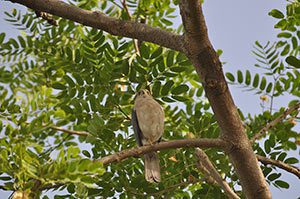 01 Day. New Delhi
We are received at the airport. We receive oue welcome kit. Transfer to a nice hotel. Overnight (hoping to reach late in evening).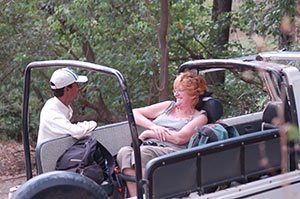 02 Day. New Delhi/Train/Agra
After breakfast, transfer to station to board a/c train (we decide which one in morning), driver assists. Reach Agra (2.5 hrs journey). The driver meets us at station and transfers to a nice hotel.  At ease we visit the Red Fort and like to spend the afternoon at the Taj Mahal to observe changing colours over its dome. Some interesting birds await us in its rectangular garden and the Yamuna River behind. Return. Overnight.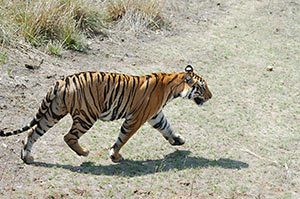 03 Day. Agra/Chambal/Train
We  drive (1 hr.) to the Chambal River for a boat ride to observe the wish-list species: Indian Skimmer over mud-flats and flying at short distance. Gavial, Marsh Crocodile and Tortoises present nice views here. Transfer (10 min.) to Dholpur station to board a/c train (1620 hrs). We buy fruits, biscuits etc., in the market and avoid having the dinner sold by the vendor in the train. Blanket, mattress and pillow are provided by the railways. Overnight in train.
04 – 06 Days. Bandhavgarh
We reach Umaria (0540 hrs) and the driver meets us at the station to transfer (45 min.) to a Lodge located by the side of the main gate of Bandhavgarh Tiger Reserve. We stay here for three nights: lot of tea, coffee, breakfast and variety of food is available and at asking. All cottages are located separately. Each room has running hot-cold water, and a private space to sit out to observe birds, butterflies and nature. The dining hall opens towards the forest, some surprises are in store. We will have open-jeep safaris in the Park during morning (0600 – 1000 hrs) and afternoon (1430 – 18oo hrs), assisted by a knowledgeable bird guide and driver (a mandatory park-guide also escorts us).
We will explore all possible tracks in this Vindhyan hill range park having valleys, spurs and low-lying grass-lands (Chakradhara, Rajbahera, Sehra, Bhitri Bah, Kolua Bah, Jamuni Nala, Sitamandap etc) to be face to face with Tigers. And will be able to photograph a few of them: crossing the track or resting in an aquatic-grass habitat. More than 40 Tigers inhabit this park.  Spotted Deer, Sambar and Wild Boar will be all around while Four-horned Antelope, Indian Gazelle, Barking Deer, Bluebull will need to be searched. The Leopard and Sloth Bear can give surprise any time. Nearly 240 species of birds are recorded in the park and we hope to succeed with one third of them in course of our safaris. Nearly 20 species can be around our lodge. Most of them are resident here like the Lesser Adjutant Stork and Malabar Pied Hornbill. Eagles, Owls, Hawks will be strong possibility.
07 Day. Bandhavgarh/Train
After the last safari we are welcome to visit a village located over periphery of Bandhavgarh Park to assess how life of local folk is impacted by frequent intrusions of wild mammals in to their agriculture fields: wildlife vs people. We like to stop at the river to photograph local people washing linen. After dinner we drive (1.5 hrs) to board a/c train at Katni at 2145 hrs, assisted by the driver. Overnight in train as above.
08 Day. New Delhi
Reach New Delhi at 1000 hrs., the driver meets us at the station to transfer to a nice hotel. Rest. Welcome to visit any place in New Delhi. Transfer to the airport in time to board flight back home. Farewell.
Note: It is a model itinerary. It will be worked out through discussions with guests about destinations, target-species, hotels, night-stay, departure-schedule etc., so that the detailed agreed final itinerary is developed for implementation.
Extension to other Tiger Parks will be offered on having a word: Kanha, Pench, Tadoba-Andhari, and Ranthambhor. Also to Keoladeo National Park, Corbett, Kaziranga-Nameri, Eaglesnest-Lava, both the Ranns of Kutch, Thar Desert, Western Ghats in South India, Cultural sites, Backwater Safari etc. The 'advance-deposit' with VIGT is not 'forfeited' if the tour is cancelled by guests. Lot of flexibility favours VIGT guests: all departures to suit guests' dates-duration, and even changes in the itinerary are effected while guests are actually touring.