Great Indian Bustards are about 150 left in the world, all in India, can be observed round the year in some habitats. Lesser Florican can number a few thousand but can be observed during breeding season only (July – September) and their habitat loss continues to be a grave threat. Welcome to observe them in wild.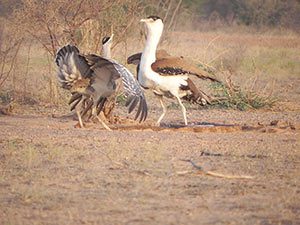 01 Day. New Delhi/Train. Welcome at airport. We receive our welcome pack. Board over night a/c train to Jaisalmer (dep. 6 pm).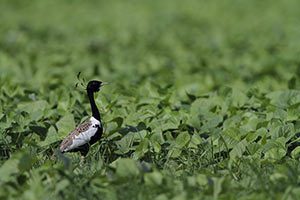 02 – 3 Days. Jaisalmer. We drive (driver assists) in the desert national park and potential outer habitats to observe Great Indian Bustards and numerous other birds (hawks, eagles, falcons, vultures also) and explore Indian Courser. Overnight (1 N).
03 Day. Jaisalmer/Train. Day long observations in desert. Board overnight a/c train (9 pm).
04 Day. Bikaner/Tal Chhapar. Reach Bikaner (6 am). Drive to a municipal dump site to locate vultures, eagles, etc. Drive (2 hrs) and reach Tal Chhapar Sanctuary to observe birds, some rarities included, and blackbuck antelopes. Overnight.
05 Day. Tal Chhapar/Nasirabad. After one more excursion in Tal Chhapar, drive (6 hrs) and reach Nasirabad in evening. Overnight.
06 Day. Nasirabad. Excursion in grass and habitat to observe Lesser Floricans. Overnight.
07 Day. Nasirabad/Phulera/Train/New Delhi. Transfer to Phulera station to board a/c train (3.30 am). Reach New Delhi (11 am). Bird watching at Okhla Sanctuary (Yamuna River) and transfer to airport to fly back home. Farewell. Any extension will be offered on being contacted.
Note: It is a sketch and to be ideally developed after receiving ideas from guests.