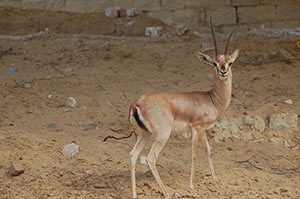 01 Day. New Delhi/Fly/Jodhpur/Camp
We reach New Delhi around 1030 am. An executive will receive us at the international airport and transfer to domestic airport to board flight to Jodhpur (1.5 hrs). Reach Jodhpur. Transfer (10 min.) to the traditional cottage camp, located amidst wilderness, no neighbour around for miles, en suite facilities with hot-cold water. Walking experience in this arid flat habitat. Overnight. Note: The Camp is a vegetarian place and desert's traditional dishes will be served (no eggs served here).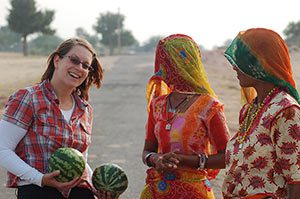 02 Day. Camp.
Welcome to enjoy sun rise and walk around to explore morning birds. After breakfast, we drive (4 1 hr.) north to reach three village water ponds and check the birds present there. Blackbuck antelopes and Indian Gazelles are often around these water bodies. We visit the Memorial where 363 Bishnoi men, women and children had given away their lives to protect green trees in 1730 AD at this place (the Maharaja of Jodhpur had ordered cutting trees to bake limestone needed to construct his new palace) – it is first human sacrifice for saving trees in the world (Bishnoi community is proud of it and practise conservation to this day. Bishnois live mostly in the Desert region). On return we visit couple of villages to observe pottery making by local artisans and cotton rug making by local craftsmen: interaction with local villagers. Lunch at Camp.
After lunch, we drive (25 min.) and reach Kharia Lake beyond a village. It is a large water body hosting thousands of resident and migratory birds. We will encounter some rare Indian birds amidst those coming from Europe, walking for couple of kilometers. Return in evening. At night, we will move around to locate an Owl, Nightjar, Desert Cat and Desert Fox to appear, a surprise here. Overnight.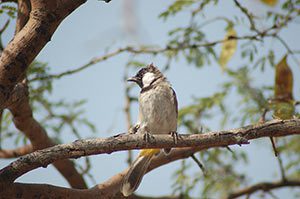 03 Day. Camp
After breakfast, we drive (20 min.) to reach Machia hills for a trekking expedition through scrub forest, shrubs and bushes. Leaving the car at the main gate, we walk for about 2 km (one way) going up hill to the fortress, observing birds in water on either side of the narrow road and around the thin green cover. Lark, Pipit, Desert wheat-ear, Green bee-eater, Kingfisher, Roller, Parakeet, Shrike, Buzzard, Black-winged Kite, Eagles, Vultures, Kites (soaring in the open sky with bright sun shine) and much more. Wild boars live here. It will be good experience to know the desert vegetation as well. We will have packed lunch. A zoo has been set up here by the Government. We board the car to drive (10 min.) to a village pond to check interesting birds and then observe a municipal dump site to observe which Vultures, Kites and other scavenging carrion birds are in store for us. Return to Camp. Overnight.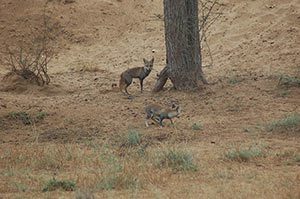 04 Day. Camp/Bikaner
After breakfast, check out. Drive (20 min.) to reach a sand dune where numerous Indian Gazelle walk around in wilderness as they are given protection by the Bishnoi people living in small village settlements all around. The Gazelles can come close by as they are fed millet grains by the locals. We will meet the Bishnoi priest  to know about conservation practices. Walking around, we will observe rodents, rats, and some birds.
We drive (4 hrs) and  stop at Deshnok village (along the road) to observe a temple of goddess where hundreds of rats run around, some even climb over the feet of visitors: a strange experience by all means and good photography.
Drive (40 min.) and reach Bikaner to stay at a remarkable heritage resort: Harasar Haveli, en suite facilities and non-vegetarian food. It is located outside the city but will have buildings around. Overnight.
05 Day. Bikaner/Tal Chhapar
After breakfast, we drive (30 min) to reach the municipal dump site to encounter hundred odd Vultures and numerous Steppe Eagles, Tawny also often observed. The Eurasian Griffon and Himalayan Griffon Vultures can also be expected here. Cinereous Vulture is also common here. Walk around (about 1 hr., be careful of the dogs, the driver will use a stick to keep them away) for good photography while morning light is soft. It is an experience in itself.
Drive (3 hrs), stopping at a road-side restaurant for  lunch. We reach Tal Chhapar to stay at the Forest Rest House. It has en suite facilities. It is within the Wildlife Sanctuary area (the only place to stay at this Sanctuary).
We like to walk in to the reserve to be wonder struck by several big groups of Blackbuck antelopes roaming in front of us, hardly 10 – 20 meter away. Some are observed drinking water at the tiny pond, others kick the sand with their antlers. A few kilometers of walk can provide us an easy estimate of this potential grass-land for numerous birds. Return. Dinner at the Rest House. Overnight.
06 Day. Tal Chhapar
We will have a day long experience in this flat habitat to observe and photograph Spiny-tailed Lizard, Larks, Wheat-ears, Rollers, Steppe Eagles, Tawny Eagle (breeds here), Vultures, Laggar Falcon, and other birds, a few surprises always here in store. Occasional Hare and Gazelle can surprise us. Harrier, Buzzard, Kestrel and other species of Eagles are strong possibility at mid day and in afternoon – soaring in sky or coming down. It will be our last day in the Indian Desert. Return. Overnight.
07 Day. Tal Chhapar/Jaipur
After breakfast, we will drive (4.5 hrs) to reach Jaipur, stopping at interesting site of birds. We stay at a heritage lodge. We will have lunch at the best restaurant of Jaipur city and spend the afternoon at the Man Sagar lake and possibly visit the lake-palace located amidst it, walking and boating (if in practice) for a while. Overnight.
08 Day. Jaipur/Bharatpur
We drive (4 hrs) and reach Bharatpur, to stay at a resort located inside the Keoladeo National Park. This park now is in better shape as water is received from three sources. A knowledgeable bird guide will lead us here. We will use cycle rickshaw to reach up to Keoladeo Temple tri-junction, from there we will walk all around to explore different aquatic habitats, grassland areas and scrub forest areas (no restriction for walking here as is in tiger parks). Some target species to be spotted here besides rock python. Overnight.
09 Day. Bharatpur
We will have full day long experiences in KN Park this day to optimize our bird quest, the same guide and rickshaw puller will be in attendance. We can have a walk in afternoon in eastern scrub zone to log in a few uncommon birds and unique mammals. Return. Overnight.
10 Day. Bharatpur/Dholpur
We will drive (1.5 hrs) to reach Dholpur to enjoy a boat ride on the Chambal River to encounter Gavials, Crocodiles, Tortoises, Turtles, and numerous birds, the elusive Indian Skimmer as well. Visit to Talab-i-Shahi lake (drive 20 min.) can be optional to observe almost all water birds found in North India with a few specialty species as well. Sloth Bear is found in this habitat. Drive (2 hrs) and reach Agra to stay at a hotel. Overnight.
11 Day. Agra/New Delhi/Fly
At own time (at sun rise hour or after breakfast), we like to visit the Taj Mahal (closed on Friday for prayers by Muslims) walking in its spectacular rectangular gardens and photographing its birds, including going towards the river Yamuna. Red Fort will be our next cultural destination.  Drive (4.5 hrs) and reach New Delhi to stay at a city hotel. Overnight. Transfer (1 hr) to airport to board flight back home. Fatrewell.
Extension Offer
3 nights at Ranthambhor Tiger Park to enjoy morning (6.30 – 10 am) and afternoon (3 to 6 pm) jeep safaris, daily, to encounter a wide variety of mammals, birds and reptiles like Spotted Deer, Sambar Deer, Wild Boar, Bluebull antelope, Crocodile, Leopard, Sloth Bear and Tiger. Walking is not permitted inside the Tiger Reserve. One mid day we will go to the periphery of the Tiger Reserve to walk (no one else around) near a river bed, to have a different experiences. It will be from Jaipur to Ranthambhor, then take a morning train (dep. 7 am., 2 hrs journey) to reach Bharatpur. Then proceed to Dholpur, Agra and reach New Delhi to fly out.