India offers wide variety of destinations and interests. We like to visit some of the most absorbing cultural places on this tour; in parts of Rajasthan and Uttar Pradesh States (counties) using New Delhi as the base which itself has some unique Mughal architecture besides throbbing life full of traditional aspects. We will be driving most areas, partly using train and flying couple of long distance places. A dedicated driver and the best 5-seater high-road-clearance vehicle will be at our disposal. Personalised services throughout and meeting Indian family too.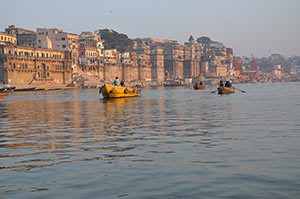 New Delhi.
We are received at the international airport and transfer to a hotel. Depending on time of arrival, we will start our next programme accordingly. Overnight.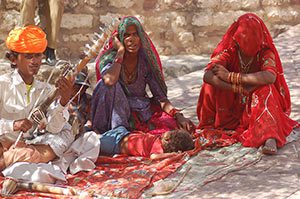 New Delhi.
We like to visit the Old Delhi's Jama Masjid, using a bicycle rickshaw to experience the traditional life. Then visit Gandhi Memorial, Humayun's Tomb (2nd Mughal emperor), Lotus Temple (Bahai faith) and Qutub Minar (13th century), driving past the India Gate to witness what the British Government had created it as the war memorial. Overnight.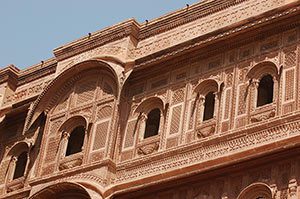 New Delhi/Agra.
We drive (4 hrs) through crowded roads and countryside agog with agriculture activities and reach Agra and spend the afternoon at the fabulous Taj Mahal (300 years old) to observe changing colours over its dome. Overnight.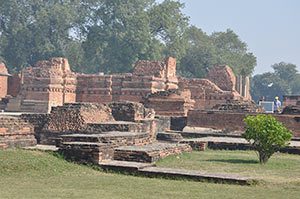 Agra/Train/Bundi.
At own time we visit the Red Fort (all Mughal emperors lived and ruled the country from this place) and drive (1 hr) to reach Fatehpur Sikri to visit this Mughal Acropolis (created by the 3rd Mughal emperor, Akbar but it was abandoned). Drive (30 minutes) to Bharatpur station to board the 3.30 pm train, assisted by the driver. Reach Kota about 7 pm. A driver will meet us to transfer (40 min.) to Bundi to stay at Hadoti Palace, an incredible heritage mansion. Overnight. 
Bundi.
A day long tour to the Bundi Palace to observe fresco paintings, step-well and then have an excursion to Kota to have a boat ride over the Chambal River. Return Bundi. A most enjoyable cultural rendezvous. Overnight.
Bundi/Jaipur.
We drive (4 hrs) and reach Jaipur. We like to spend afternoon at traditional market at Hawa Mahal and Johri Bazaar, a walking experience. Overnight.
Jaipur.
We will have a daylong excursion to Stone Observatory (let us check time at the instruments and match it with own watch?), City Palace (the princess lives here), Amber Palace (the Rajput king of this place had offered his sister to be married to the Mughal emperor, Akbar to have a diplomatic truce!) and time permitting like to visit the Jai Garh Fort (cannon factory worked there). Dinner at Manoj's place. Overnight.
Jaipur/Nawalgarh.
We drive (3.5 hrs) through semi arid areas to reach Nawalgarh village and stay at this heritage property, Roop Niwas Kothi. Many peacocks flutter around and horses are reared here. We like to visit couple of 'havelis' (old mansions) which have profuse frescoes over the walls, some being restored as well. A walking experience to meet  iron smith, silver smith, jeweler, tailor, etc., in action. Return. Overnight.
Nawalgarh/Bikaner.
We drive (3 hrs) and reach Gajner Palace to stay there. An authentic palace of the erstwhile princes of Bikaner, it is a matchless property located by the side of a lake (The British Viceroys stayed here to enjoy Sandgrouse shoots). We will have unique experiences here. Overnight.
Bikaner.
We will visit the Junagarh Palace, a fort like looking palace famous for gold plated ceilings, and will be surprised to find quite a few British related documents here including an aeroplane used in the Second World War. We will visit the royal cenotaphs to know about architecture patterns in stone carving. Return. Overnight.
Bikaner/Jodhpur.
We will drive (5 hrs) to Jodhpur and stop along the road at Deshnok to experience a marble temple dedicated to goddess of war where hundreds of rats roam around (the goddess in Indian pantheon had nine incarnations; this one is one of them).  Reach Jodhpur in afternoon. Overnight.
Jodhpur.
We will spend morning at the imposing Mehrangarh Fort, one of the best managed forts in India, to observe traditional living styles of the Rathore Rajput rulers of this desert kingdom. The architecture here is truly Rajput. Cannons are parked over the ramparts. The city stands below our feet. On return we will visit Jaswant Thada, cenotaphs of rulers – white marble and red sand stone are used in a stylish manner. We like to spend afternoon at a sand dune (20 km away) to observe wild Indian Gazelles conserved by the Bishnoi community (they practice 29 principles and nature conservation is prominent for them). Like to visit a tiny Bishnoi temple, meet the priest and try to hand-feed the Gazelles there. Overnight.
Jodhpur/Ranakpur.
We drive (4.5 hrs) through semi arid and gravel countryside  and reach Ranakpur village to stay at Fatehbagh Palace, a heritage property and an experience in itself. We will visit the ancient Jain temples here (Jain religion is based on non-violence, its monks  remain nude and are worshipped by huge crowd, men, women, children, as they march bare foot over roads), made of white marble, hundreds of columns and all are dissimilar. A Sun Temple is located nearby to observe different skills in architecture. Overnight.
Ranakpur/Udaipur.
We drive (30 min.) to visit Kumbhalgarh Fort atop the Aravalli hills where we experience an ancient temple and a long parapet wall – looks like India's China Wall. Drive (1.5 hrs) and reach Udaipur to stay at Shikarbadi Heritage Resort, or similar hotel. Overnight.
Udaipur.
We will visit the City Palace overlooking the Pichhola Lake and may like to do boating. Crafts Museum (puppetry), Saheliyon ki Bari (garden of girl friends), Pratap Memorial and drive at Fateh Sagar Lake will keep us busy for rest of the day. Overnight.
Udaipur/Fly/New Delhi/Fly/Varanasi. Transfer to airport (1 hr.) to board flight. Reach (1.5 hrs) New Delhi. Board another flight. Reach (1.5 hrs) Varanasi. The driver will meet us at the airport to transfer to our hotel. Overnight.
Varanasi.
We will have leisurely walking tour to the Ganges River, its steps where numerous rituals are performed throughout the day. Good to do boating. Beware of performing formal prayers (many will invite to do so). We visit Sarnath Buddhist Centre (20 min. drive) in afternoon, the most sacred place for Buddhist religion. Return. Overnight.
Varanasi/New Delhi.
Transfer to airport to board flight. Reach New Delhi in afternoon. The driver will meet us at the airport. Transfer to hotel. Overnight.
New Delhi/Fly.
The driver will transfer to international airport to board flight to London (reporting 3 hrs prior to departure is suggested). Farewell.
Note: It is a model itinerary. It will be worked out through discussions with guests about destinations, target-species, hotels, night-stay, departure-schedule etc., so that the detailed agreed final itinerary is developed for implementation. Extension to Corbett-Bharatpur, Kaziranga-Nameri, Eaglenest, both the Ranns of Kutch, Thar Desert, Western Ghats in South India, other Tiger Parks, Cultural sites, etc., will be offered on receiving a word. The 'advance-deposit' with VIGT is not 'forfeited' if the tour is cancelled by guests. Lot of flexibility favours VIGT guests: all departures to suit guests' dates-duration, and even changes in the itinerary are effected while guests are actually touring.