India is a mega-diversity country, among the top ten nations, endowed with the world's richest biodiversity. It represents about 7% of the world's flora and 6.5% of the world's fauna, recording 614 species of amphibians and reptiles, 1,225 species of birds, and 350 species of mammals. Of these, 173 species of mammals, 78 species of birds and 15 species of reptiles are considered threatened.
There are more than 700 National Parks and Sanctuaries in India. Some noted wild habitats are unique for birds, mammals and reptiles where rare species are encountered with pleasure.
The Rann of Kutch is a one such India's Gujarat State. There are two: Little Rann of Kutch and Greater Rann. They are low-lying areas where the monsoon water assumes the shape of shallow lakes and swamp. They dry up in winter, yet several water bodies remain active. The islands within them, known as "bets" possess lot of grass cover, hence ideal for avian species to stay. Though some what inaccessible due to either severe mash conditions or dense grass-groups, the entire region is rich in wild life, loads of birds can be spotted during winter — waterfowl in the water bodies and other species in the arid and semi arid terrain.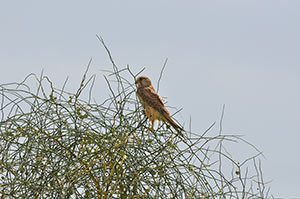 01 Day. New Delhi.
An executive meets us at the airport and we receive our welcome pack. Transfer to a nice hotel. Welcome to spend the day at Okhla Sanctuary for introductory bird watching. Overnight.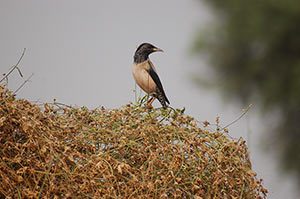 02 – 04 Days. New Delhi/Fly/Ahmedabad/Little Rann of Kutch
Transfer in time to board flight (0600 hrs – 0900 hrs, 1.5 hrs).We reach Ahmedabad. The driver meets us and drive (2 hrs) to reach Little Rann of Kutch to stay at a nice resort for three nights. Some bird watching in afternoon around the nice resort where we stay. We will have open-jeep safaris here during morning and afternoon to scan the Little Rann of Kutch and discover its wonders. A bird guide and driver will assist us.
Houbara and Cream-coloured Courser will be strong possibilities here besides Larks, Pallid Scops Owl, Hoopoe Lark, Greater Flamingos, Dalmatian Pelican, Common Cranes, Spoonbills, Painted Storks, Mallards and other ducks, Chestnut-bellied Sand Grouse, Harriers (3 species), and Indian Nightjar as well. The Wild Ass is to be encountered soon after entering the reserve. The stay is expected to be fairly satisfying. We will be welcome to experience rich cultural life by visiting tiny villages to observe handicrafts being made by women. An ancient archaeological site is nearby in case we wish to visit. Overnight.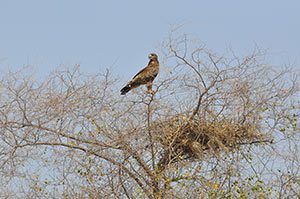 05 – 8 Day. Little Rann/Greater Rann
On fifth morning we drive (about 5 hrs) stopping at places to check birds at water bodies and across the sky. Reach Greater Rann of Kutch and stay at Moti Virani based nature camp. Four days can be sufficient to cover the adjoining habitats: Banni grassland, Chari Dhand Lake, and southern water bodies of Greater Rann. Our target species will be: White-naped Tit, Grey Hypocolius, Indian Eagle Owl, Sykes Nightjar, Wheatears, White-browed Bushchat, Desert Warbler, Larks, Stonechat, White-browed Bushchat, Grey-necked Bunting, Painted Sandgrouse, Vultures and importantly the Great Indian Bustard. Some water bodies will offer lot more: Stints, Lesser Flamingos, Broad-billed Sandpipers, Kentish and Lesser Sand Plovers, Dunlins, Golden and Grey Plovers, Terns (4 species), Western Reef Egrets to be numerous. Both Desert Cat and Jungle Cat are possible to be observed.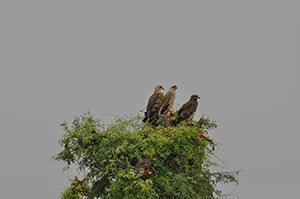 09 Day. Greater Rann/Train/Ahmedabad
After last day's wilderness encounters, we transfer (2 hrs) from Moti Virani to Bhuj in time to board train (2200 hrs.). Overnight in a/c train, pillow, mattress, blankets are provided by railways.
10 Day. Ahmedabad/Fly/New Delhi
We reach Ahmedabad in morning. The driver meets us at station to transfer to a nice hotel. Rest. We can spend time at an ancient 'baori' (step well), showing fine stone carvings. Transfer to airport in time to board flight (1945 – 2100 hrs, 1.5 hrs). Reach New Delhi and transfer to a nice hotel. Overnight.
11 Day. New Delhi
At our own time we like to visit a monument or two in the capital and have a feel of the British Raj as well, a car and driver are available. Transfer to airport in time to board flight back home. Farewell.
Note: It is a model itinerary. It will be worked out through discussions with guests about destinations, target-species, hotels, night-stay, departure-schedule etc., so that the detailed agreed final itinerary is developed for implementation. Extension to Kaziranga-Nameri, Eaglenest, Thar Desert, Western Ghats in South India, other Tiger Parks, Cultural sites, Backwater Safari etc., will be offered on receiving a word. The 'advance-deposit' with VIGT is not 'forfeited' if the tour is cancelled by guests. Lot of flexibility favours VIGT guests: all departures to suit guests' dates-duration, and even changes in the itinerary are effected while guests are actually touring.