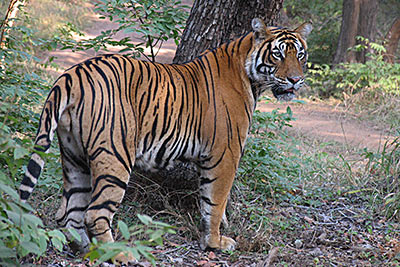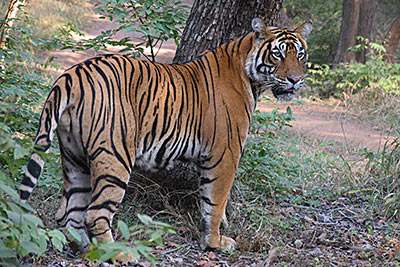 O1 Day.New Delhi.
Reach London Heathrow airport in time to board flight leaving for New Delhi at 1025 am.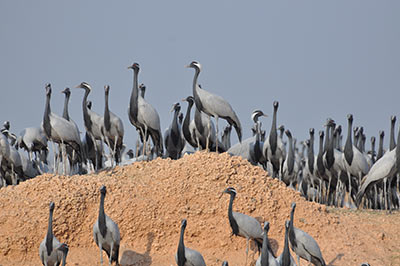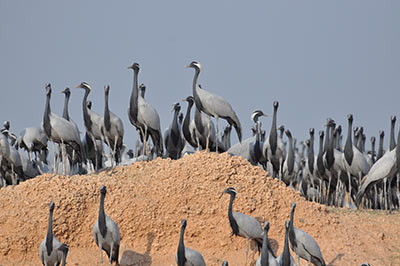 02 Day. New Delhi/Ahmedabad/Little Rann.   
Flight reaches New Delhi international airport at 0120 am. Welcome at airport by an executive and receive the welcome pack. Transfer (5 min.) to Hotel Shanti Palace. Rest.
Transfer at 1300 hrs to New Delhi domestic airport in time to board AI 10, dep. at 1500 hrs. for Ahmedabad, reaching at 1635 hrs. Received by driver at the airport and drive (1.5 hrs) to Little Rann at Dasada. Reach Dasada. Dinner and overnight in comfortable rooms with en suite facilities and good food at Rann Riders.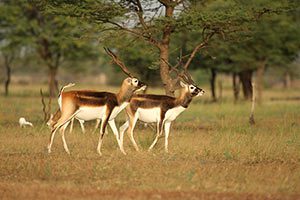 03 Day. Little Rann.
Am and pm jeep safari in the Little Rann of Kutch. We will encounter nearly a hundred species
of birds in course of our visits in the semi arid region, saline patches and around edges of
shallow lakes dotted with xerophytic vegetation. Birds at hand-shaking distance though
mammals keep respectable distance. The driver of the jeep can be often fast if not erratic so we
need to calm him down. The guide is unlikely to be top grade, quite usual with hoteliers in
India, not surprisingly. However, the species shall introduce themselves, the best
consolation here. We will have jeep safaris to cover long distance and reach as far as the dirt
tracks will allow driving. We will walk around the resort to explore more. Houbara, Painted Sandgrouse, Indian Fox, Desert Cat, Wild Ass, (Wolf is possibility), Chinkara, Sociable Lapwing (has it arrived?), etc., will be observed in this region. Overnight. We are allowed to walk inside the Rann.

04 – 05 Days. Little Rann/Greater Rann.
After  breakfast,  drive (04 ½ hrs) to Moti Virani. We will stop at places where we may find anything new and interesting though by now most birds of this driving belt would have been registered by us. We reach this modest-basic B&B facility as the base for our stunning expedition in the Greater Rann of Kutch (operated by a knowledgeable bird expert). This place is suggested to receive the best of bird-watching in this region. We like to go on a jeep safari soon after reaching here. Overnight.
Moti Virani: We will be devoting time for the wish-list birds, using a jeep, driver   and the best bird-guide, covering areas such as Port Mahadev, Chari Dhand, Bani grassland towards Naliya and adjoining habitats of recognizable advantages. It will be most satisfying experience here, often walking for a mile or so. Great Indian Bustard, Houbara, White-browed Chat, Grey Hypocolius, White-naped Tit, Wolf, Chinkara, Fox (V. bengalensis), Demoiselle Cranes, Eurasian Cranes, etc., will be possible to be observed here. Overnight at Moti Virani.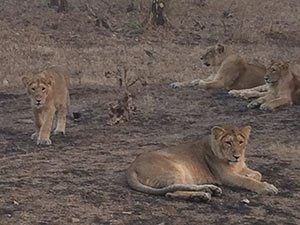 06 Day. Greater Rann/Jamnagar
After lunch, drive (3.5 hrs), stopping for birds along the road and walking towards some aquatic areas, many Cranes are to be observed at some places. Reach Jamnagar in evening and overnight at a nice hotel.
Note: This night halt is necessitated to cut down long distance (Greater Rann to Gir National Park).
07 Day. Jamnagar/Sasan Gir
After breakfast we like to visit a tank within the city to explore birds. Then we visit Khijadia Bird Sanctuary to inspect more birds. Drive (4 hrs) and reach Sasan Gir to stay at the best resort in Sasan Gir. Overnight.
07- 08 Days. Sasan Gir
Am and pm jeep safaris in Gir Lion Park, the guide is not likely to add on to our knowledge. Asiatic Lion, Leopard, Rusty- spotted Cat, Fishing Cat, Jungle Cat will be possible to be observed here. Overnight.
09 -11 Days. Sasan Gir/Velavadar
After early breakfast, drive (05 hrs) to Velavadar to stay at The Blackbuck Lodge. Full day in Velavadar Wildlife Sanctuary. Mostly walking, we will discover the rare species across the grass land areas; the jeep will be able to reach most of the distant places. Harriers, Larks, grassland birds and Blackbuck will be observed here. Seeing Wolf and Hyena are possibilities. Overnight at The Blackbuck Lodge.
12 Day. Velavadar/Ahmedabad/Flight/Jaipur
After our last safari in Velavadar in morning, we drive (3.5 hrs) and reach Ahmedabad airport to board, dep. at 1620 hrs. We need to check in one hour before dep. time. Reach Jaipur at 1725 hrs. Transfer to hotel Mansingh Palace (dinner at Manoj's place). Overnight.
13-16 Days. Jaipur/Ranthambhor
After breakfast, transfer to station to board a/c train at 10.30 am. Reach Sawai Madhopur at 1300 hrs. Transfer (10 min.) to a resort facing the tiger park.
Each day, we will have morning (6.30 – 10 am) and afternoon (2.30 – 6 pm) jeep safaris, assisted by a knowledgeable guide and an equally versatile driver inside the 400 sq, km Tiger Park having a reputation as a nursing home of tigresses. We will cover different zones each time e.g., Raj Bag, Padam Talab, Malik Talab, Lakarda, Bherda, Jhalra, Tamba Khan, Naal Ghati, Phuta Khurra,  rear areas of the Fort, etc. Two tigresses with cubs are being observed and photographed these days in Ranthambhor; three cubs are getting adult and are expected to be looking for their new territories. One morning we can visit Surwal lake (15 km away) to photograph birds. Visit to the fort is optional.
17 Day. Ranthambhor/New Delhi.
After morning jeep safari in Ranthambhore, transfer to Sawai Madhopur train station to board a/c train dep. 1230 noon. We like to carry packed lunch. Reach New Delhi by 1845 hrs. Transfer to hotel Shanti Palace. Overnight.
18 Day. New Delhi/London.
After breakfast, transfer to New Delhi international airport in time to board flight leaving at 1030 am. Farewell.