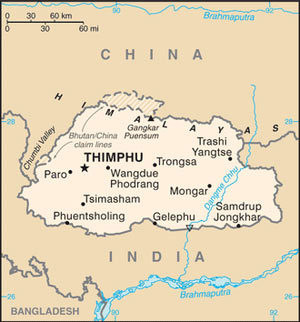 The flora and fauna in Bhutan is unparalleled due to conservation and its wide altitudinal and climatic range. Physically, the country can be divided into three zones: 1.Alpine Zone (4000m and above) with no forest cover; 2.Temperate Zone (2000 to 4000m) with conifer or broadleaf forests; 3.Subtropical Zone (150m to 2000m) with Tropical or Subtropical vegetation.
Bhutan boasts of about 300 species of medicinal plants and about 46 species of rhododendrons. Some common sights for the visitors are the magnolias, junipers, orchids of varied hues, gentian, medicinal plants, Daphne, giant rhubarb, the blue and trees such as fir, pine and oaks.
A wide range of rare and endangered animals can also be found frequenting the dense jungles and high mountains of Bhutan. Due to the countries conservation efforts and its unspoiled natural environment Bhutan supports thriving populations of some of the rarest animals on earth and has thus been classified as one of the last biodiversity hotspots in the world.
Some high altitude species are the snow leopards, Bengal tigers that are found at altitude ranging 3000 to 4000 meters, the red panda, the gorals and the langurs, the Himalayan black bear, sambars, wild pigs, barking deer, blue sheep and musk deer.
In the tropical forests of Southern Bhutan one can come across clouded leopards, the one horned rhinoceros, elephants, water buffaloes and swamp deer. You can even find the Golden Langur, a species of monkey that is unique to Bhutan.
Bhutan also has a great variety of bird species. It is recognized as an area of high biological diversity and is known as the East Himalayan 'hot spot', the hub of 221 global endemic bird areas. The recorded number of bird species is over 670 and is expected to rise as new birds are discovered.
In addition, 57% of Bhutan's globally threatened birds and 90% of the country's rare birds are dependent on forests. Bhutan has about 415 resident bird species. These birds are altitudinal refugees, moving up and down the mountains depending upon the seasons and weather conditions. Of about 50 species of birds that migrate during the winters are the buntings, waders, ducks, thrushes and the birds of prey. Some 40 species are partial migrants and they include species such as swifts, cuckoos, bee-eaters, fly catchers and warblers.
Bhutan is also home to about 16 bird species that are endangered worldwide. These include the White bellied heron, Pallas Fish eagle and Blyth's King fisher to name a few. In Phobjikha valley (Wangdue Phodrang) and in Bomdeling (Trashi Yangtse), one can observe the endangered Black-necked Cranes.
Dr. George Archibald, co-founder of the International Crane Foundation (Baraboo, Wisconsin, USA) is working on all 15 species of Cranes and has devoted some time in Bhutan also. We (ourindiantours.com) are in association with George and facilitate his work.