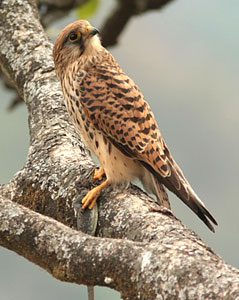 Rann of Kutch
The Rann of Kutch is a unique eco-system in Gujarat State. There are two habitats: Little Rann of Kutch and Greater Rann. They are low-lying areas where the monsoon water assumes the shape of shallow lakes and swamp. They dry up in winter, yet several water bodies remain active. The islands within them, known as "bets" possess lot of grass cover, hence ideal for avian species to stay. Though some what inaccessible due to either severe mash conditions or dense grass-groups, the entire region is rich in wild life; loads of birds can be spotted during winter — waterfowl in the water bodies and other species in the arid and semi arid terrain.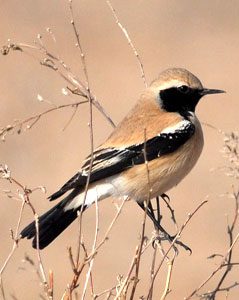 Little Rann: We approach the Little Rann from Ahmedabad. The drive can be for an hour and a half to reach Zainabad or Dasada. Open jeep is used for the Rann safaris, during morning and afternoon, to cover bit long distance to reach the exact location of birds. We can stay for two nights.
The Little Rann of Kutch has another name — Wild Ass Sanctuary. It is home to the endangered Wild Ass, not found anywhere else in the world. Other mammals found here include Bluebull, Chinkara, Hedgehog, Wolf, Jackal, Fox, Jungle and Desert Cats, Lizards. Nearly 300 species of birds have been recorded in this Rann.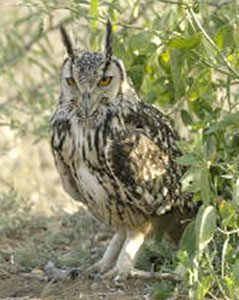 Raptors: Buzzards (Long-legged, Common, and White-eyed), Eagles (Bonelli's, Imperial, Tawny, Steppe, Greater Spotted, Lesser Spotted, Booted, and Short-toed), Harriers (Pallid and Montagu's), Red-necked Falcon. Merlin is also reported. Six species of vultures are easily observed, the White-backed Vulture, which declined all over the subcontinent, can also be spotted here. Cranes and Waders: The Rann is haven for Cranes. Common Cranes and Demoiselle Cranes winter in thousands in this vast expanse. Large congregation of waders is impressive at each water spread: Shanks, Sandpipers, Godwits, Pratincoles (Small, Oriental and Collared), Lapwings (Yellow-wattled, White-tailed and often Sociable, which is rare). A thorough search can yield rarities — waders which confine to the sea shores. The brackish water spread hosts Pelicans (3 species), Flamingos (both Lesser and Greater), Storks (Painted, Open-billed, Woolly-necked, White, Black and Black-necked). Ducks: Lesser-whistling, Spot-billed, Comb, Marble Teal, and other common wintering ducks are all around.
The scrub habitat hosts the migratory Houbara, once quarry of the Arab Sheikhs in India. Chesnut-belied and Spotted Sandgrouse, Cream-coloured, and Indian Coursers, Jungle Bush and Rock Bush Quails, and Yellow-legged and Barred Button Quails, Larks (Singing and Indian Bush, Ashy-crowned, Black-crowned Sparrow Larks, Rufous-tailed, Greater Hoopoe, Greater Short-toed, Sand, Bimaculated, Crested, Syke's Larks and Oriental Lark) are common sights here.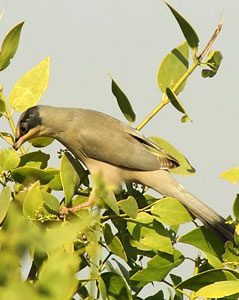 Martins, Pied Cuckoo, Sirkeer Malkoha, Wryneck, Blue-cheeked Bee-eater, European Roller, Rosy Starling, Large Grey Babbler, Red-breasted and Asian Paradise Flycatchers, Prinias (Jungle, Graceful, Ashy, Rufous-fronted, Grey-fronted), Wire-tailed Swallow, Shrikes (Rufous-tailed, Bay-backed), Warblers (Grey-backed, Blyth's Reed, Booted, Orphean, Desert, Sulphur-belied) etc, Pied-Bushchat, Wheatears (Isabeline, Variable and Desert), Blue-headed Rock Thrush, Greater and Lesser Whitethroat, Rufous-tailed Scrub Robin, Tawny and Long-billed Pipit, Chestnut-shouldered Petronia, Baya, Streaked Weaver, and Black-breasted.
Birding safaris pass through tiny village settlements where we can experience local culture, and craftsmen-women engaged in handloom, embroidery, and pottery. The nocturnal species are: Dusky Eagle and Short-eared owl, and four species of Nightjars (Savanna, Syke's, Indian and Grey).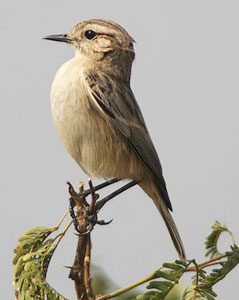 Great Rann: There are two ways of covering the Great Rann of Kutch. One is to go through Jamnagar – we drive (4 hrs) from the Little Rann to reach Jamnagar for over night stay, to observe birds at its lakes – Khijadia and Bhujia pond. The Marine National Park is located nearby; better we observe birds at the Jamnagar shore — littoral and swampy edges dominated with mangrove forest.
Then we drive to Bhuj. Or we drive (6 hrs from the Little Rann) to reach Bhuj to encounter the avifauna of the Greater Rann of Kutch, some rarities live here: White-naped Tit, Grey Hypocolius, Stoliczka's Chat, hundreds of raptors (Harriers and Steppe Eagles significantly) besides Great Indian Bustard around Nalia grassland region (another 2 hrs drive). It needs minimum three night halt here and worth doing.
An ideal method for enhanced bird watching is by staying at Moti Virani camp (Nakhtarana region in Gujarat, hosted by Jugal Tiwari, an expert of the region's birds and vegetation) which is about an hour's drive from Bhuj. We cover most potential birds around this place, driving a few hours daily, possibly birding from sun rise to sun set (Chhari and Fulay regions). Some target species can be: Grey Hypocolius, White-naped Tit, White-browed Bush Chat (Stoliczka's Bush Chat), Indian Bustard and Macqueen's Bustard (Houbara), Lesser Florican (in monsoon), Marshall's Iora, Sykes Crested Lark, Sykes's Nightjar, Hoopoe Lark, Common Cranes (about 30,000 around Chhari-Dhand), Steppe, Tawny, Greater Spotted, Booted, Bonelli's, Imperial Eagles, Long-legged Buzzard, Short-toed Snake Eagle, Kestrel, Redheaded Falcon, Lagger Falcon, Honey Buzzard, Short-eared Owl, Eurasian Eagle Owl, Crab Plover, White-bellied Minivet, Painted Sandgrouse, Indian Courser, Chestnut-bellied Sandgrouse, White-rumped Vulture, Green Avadavat (Munia), Grey Jungle Fowl, Red Spur Fowl, Sarus Crane etc.
Valavedar National Park
We drive (4 hrs) from Jamnagar, stopping for bird watching along the road, to reach Velavadar Sanctuary, renowned for its richness since the Raj days; it is around this region that Dharmakumarsinhji, prince of Bhavnagar, practised falconry and undertook research on avifauna of Saurashtra. Velavadar can be approached from Ahmedabad, and also while returning from Gir National Park. We stay at a lodge located near this reserve.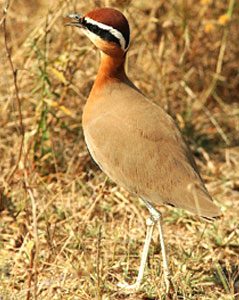 Harrier Paradise: Created for the conservation of the Blackbuck, Valavadar is a unique grassland and dry deciduous scrub ecosystem. It is a favoured roost for thousands of Harriers during winter (October to early February). Montague's Harriers are remarkably the maximum. The Lesser Florican reaches here to breed during the monsoon. Wheatears, Larks, Shrikes, and other arboreal and ground birds can keep us engaged. The Stoliczka's Bushchat has been recorded here. Black-shouldered Kite, Shikra, and Short-toed Eagle are observed occasionally.
The Blackbucks are in thousands surviving on the grass land vegetation. Their population is kept under check by two significant predators: Wolf and Jackal. Other mammals likely to be seen are Fox, Hare, Desert Gerbil, Jungle Cat, and Bluebull.

Sasan Gir
Gir is a unique success story for revival of Asiatic Lion, their number was reduced to about a dozen a century ago. The pride of jungle is at ease in number as also health, prey-predator balance is well maintained, and the park is managed at its best by the forest department of Gujarat. Lions were present in most part of India during late mediaeval time. Today it is the lone surviving population in the wild here. The Maldharis, traditional graziers, live within and around this park, and are accepted as an integral part of the Lion-ecosystem; we can visit their tiny dwellings in course of the Lion safaris.
The habitat is diverse, the rivers supporting a long length of evergreen belt, while surrounding areas are covered with forest, tropical thorn, dry deciduous and open scrub grass land. It hosts more than three hundred species of birds. We use open jeeps for the morning and afternoon safaris, like in tiger parks, to move into the park to observe birds and wild life.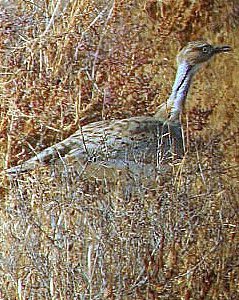 Interesting birds: Black Ibis, Woolly-necked Stork, Rock Bush Quail, Painted Sand Grouse, Crested Treeswift, Greater Racket-tailed Drongo, Black-headed Cuckoo Shrike, Asian Paradise-Flycatcher, Pygmy Woodpecker, Black Headed Oriole, Indian Pitta, Parakeets, Mynas, Doves, Pigeons, Babblers, Warblers among others. The prominent raptors observed include : Eagles (Crested Serpent, and Bonelli's), Owls (Brown Fish, Dusky Eagle, and Spotted Owlet).
We are not allowed to get down from the jeep while inside the park, the usual norm in most parks in India. Bird watching has to continue while driving and stopping. At the dam embankment of course, we are welcome to walk around to log in the aquatic species. A walk around the resort is generally rewarding, we follow the country trails to discover several terrestrial and arboreal species. Walking by the river is possible.