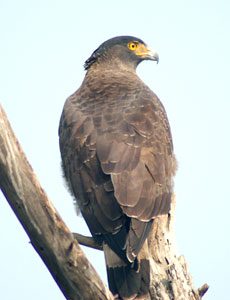 Western Ghats is a vast chunk of area towards West-Southern Indian States comprising Karnataka, Tamil Nadu, Kerala and partly Goa. It is one of the best forest regimes in the country, also least explored and rich in bio-diversity. Some of the best bird spots are within this region. More than two hundred species, some endemics, are assured for us here. Half a dozen destinations are selected to cover this area appropriately.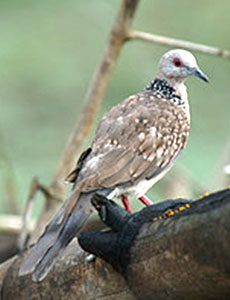 Valparai (Top Slip)
Inside the Indira Gandhi Park is Top Slip, is an excellent area for birds and we prefer to stay at Valparai where sightings are all around in more friendly manner and facility of lodge-board superior.  The principal habitat is (partially logged) deciduous forest and teak plantations. The ever green shola is the most valuable habitat bearing vast grass cover. Birds here include: White-bellied Treepie, Malabar Tragon, Indian Pitta, Malabar Grey Hornbill, Crimson-fronted Barbet,  Ceylon Frogmouth, Black-throated Munia, Jerdon's Nightjar, Wynad Laughing Thrush, Rufous-winged Cuckoo, White-rumped Needletail, Rufous Babbler, Red Spurfowl, Grey Junglefowl, Black-headed Babbler, Malabar Whistling Thrush, Black-crested Bulbul, White-bellied Blue Flycatcher, Blue-faced Malkoha, Tickell's Warbler, Large-billed Warbler, Green Warbler, Blue-winged Parakeet, Orange-headed Ground Thrush, Black Bird, Blue-bearded Bee-eater, Blue-throated Flycatcher, Purple-rumped Sunbird, Yellow-browed Bulbul etc. Several wild mammals are to be encountered here, Elephant is outstanding. The Lion-tailed Macaque and Nilgiri Thar are to be spotted here.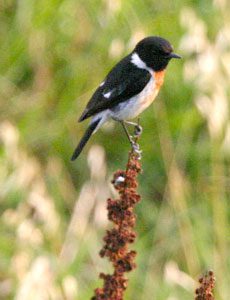 Munnar
In northern Kerala, Munnar is the base for Eravikulam National Park (Rajamalai National Park). It is a hill station with plenty of tea estates and some Raj influence as well. Birds to be observed here are: Grey-breasted Laughing-thrush, Nilgiri Woodpigeon, Nilgiri Flycatcher, Black and Orange Flycatcher, White-bellied Shortwing, Broad-tailed Grassbird, Nilgiri Pipit (all endemic),Grey-headed Canary Flycatcher, Common Flameback Woodpecker, Long-tailed Shrike, Blue Rock Thrush, Painted Bush Quail, Black Eagle, Common Kestrel, Peregrine Falcon, Bonelli's Eagle, Rufous-bellied Eagle, Hill Swallow, Common Rose Finch etc.
Visit to Eravikulam can offer Nilgiri Pipit, White-bellied Shortwing,  Hill Swallow, Nilgiri Verditer, Tickell's Warbler, Black Bird, Grey-breasted Laughing Thrush, Bonelli's Eagle, Black Eagle, Blue Rock-thrush, Malabar Whistling-thrush etc.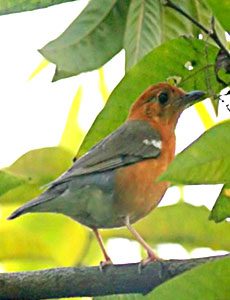 Periyar
Periyar National Park is one of the Project Tiger reserves, designated to conserve tigers in India. However, their sighting is not as common here as in Ranthambhor or Bandhavgarh. The park contains some tracks of ever green forest, dry deciduous wood lands, teak plantation and open grass lands. It is centered around a huge man made lake. The boat trip across the lake brings one closer to wild Elephants feeding on the shore. It is rich in bird life. 'The Birds of Periyar' (by Andrew Robertson and Michael C.A. Jackson, published by Tourism & Wildlife Society of India) lists 266 species positively recorded in the area, prominent being: Wayanad Laughing-thrush,White-bellied Treepie, Malabar Grey Hornbill, Rufous Babbler (thees are endemic), Geat Hornbill, Velvot-fronted Nuthatch, Common Hawk Cuckoo, Brown Cheecked Fulvetta, Malabar Trogon etc.
Thattekkad
The Thattekad Bird Sanctuary is a star destination in south India. It is located in North Kerala. It is a small area (about 25 sq. km), best approachable from Kochi or from Munnar (about 2 hrs drive). Due to diversity of bird species, it is hailed as the richest bird habitat on peninsular India. Thattekad means flat forest. It falls within the evergreen low-land forest. Several species, both forest birds as well as the water birds, visit the sanctuaries, and the important ones include: Indian Pitta, Ground Thrush, Large-billed Warbler, Jerdon's Nightjar, Indian Cuckoo, Darters, Cormorants, Whiskered Terns, Collared Scops Owl, Frogmouth, Pompadour Green Pigeon, Yellow-browed Bulbuls, Drongo Cuckoo, Indian Hawk Cuckoo, Large Hawk Cuckoo, Mountain Hawk Eagles, Dark-fronted Babbler, Brown-cheeked Fulvetta, Brown-backed and White-rumped Needletails, Emerald Green Pigeons, Little Grebe, Cormorants, Darter, Herons, Egrets, Bittern, Storks (Painted, Woolly, Black), Ducks (Garganey) are the prominent aquatic species.
Raptors can include: Black-shouldered Kite, Black-crested Baza, Oriented Honey Buzzard, Black Kite, Brahminy Kite, Shikra, Crested Goshawk, Besra, Sparrow Hawk, Common Buzzard, Mountain Hawk Eagle, Crested Hawk Eagle, Bonelli's Eagle, Booted Eagle, Rufous-bellied Eagle, Black Eagle, White-bellied Sea Eagle, Grey-headed Fish Eagle, Red-headed Vulture, Long-billed Vulture, Egyptian Vulture, Pallid Harrier, Montague's Harrier, Pied Harrier, Eurasian Marsh Harrier, Short-toed Eagle, Crested-Serpent Eagle, Osprey, Peregrine Falcon, Oriental Hobby, Red-necked Falcon, and Common Kestrel.
The nocturnal species are likewise interesting: Oriental Scops Owl, Collared Scops Owl, Spot-bellied Eagle Owl, Brown Fish Owl, Jungle Owlet, Brown Hawk Owl, Spotted Owlet, Brown Wood Owl, Short-eared Owl, Great-eared Nightjar, Indian Nightjar, Franklin's Nightjar, and Grey Nightjar.
Other interesting birds here are: Gray Partridge, Quails, Red Spurfowl, Grey Junglefowl, Common Peafowl, Rails, Crakes, Snipes, Red-wattled Lapwing, Little-ringed Plover, Sandpipers (Marsh, Green, Wood and Common), Whimbrel, River Tern, Pigeons, Doves, Parakeets, Cuckoos — Red-winged Crested Cuckoo, Pied-crested Cuckoo, Common Hawk-cuckoo, Indian Cuckoo, Common Cuckoo, Banded Bay Cuckoo, Grey-bellied Plaintive Cuckoo, Drongo-cuckoo, Koel, Small Green-billed Malkoha, Sirkeer Malkoha, Greater Coucal, and Lesser Coucal.
Frogmouth: The Ceylon Frogmouth is observed here. Other species are: Swifts, Trogons (Malabar), Kingfishers (Lesser-pied, Common, Blue-eared, Stork-billed, White-throated, Black-capped), Bee-eaters, Rollers, Hoopoe, Hornbills (Malabar Grey and Great), Barbets (Brown-headed, Small Green, Crimson-throated, and Crimson-breasted), Woodpeckers (Eurasian Wryneck, Speckled Peculet, Rufous, Lesser Yellow-nape, Black-rumped Flameback, Greater Flameback, White-naped, White-bellied Woodpecker, Brown-capped Pygmy, Heart-spotted), Pitta, Larks, Swallows, Martins, Shrikes, Orioles, Drongos, Wood Swallow, Starlings, Mynas, Crows, Treepies, Jays, Minivets, Leafbirds, Fairy Bluebird, Bulbuls, Babblers, Laughing Thrushes (White-breasted, Waynad), Flycatchers, Warblers, Chats, Tits, Nuthatch, Pipits, Wagtails, Flower-peckers, Sunbirds, Spider Hunters, White Eye, Sparrow, Baya, Munias, Common Rose Finch etc.
Nagarhole Park
It is close by Ooty. The significant species are: Rufous Babbler, Blue-capped Rock Thrush, Indian Scimitar Babbler, Blue-winged Parakeet, Indian Swiftlet, Black-headed Cuckoo Shrike, White-bellied Woodpecker, Red-headed Vulture, Chestnut-bellied Nuthatch, White-cheeked Barbet, Jungle Owlet, Plum-headed Parakeet, Tickell's Flowerpecker, Thick-billed warbler etc.
In ootty, the birds are almost the same as in Munnar but some different birds are Nilgiri Laughing-thrush (endemic) in Dodabetta market and Nilgiri Blue Robin (White-bellied Shortwing which is endemic). Others can be: Nilgiri Woodpigeon, White-bellied Blue Flycatcher, Indian Hill Swallow, Blue-capped Rock Thrush, Yellow-browed Bulbul, Malabar Whistling Thrush, Western-crowned Babbler, Nilgiri Verditer, White-cheeked Barbet, Indian Scimitar Babbler, Spotted Babbler, Dusky Craig Martin etc.
Access: Reach Kochi in Kerala and proceed to Periyar (Backwater is along the road), Munnar (cover Eravikulam and Chinnar from here itself), Top Slip, Ooty and then Thattekkad. Visit Goa for bird watching in its eastern forest region which can be a separate segment, overnight train to-fro Kochi to Goa is possible.