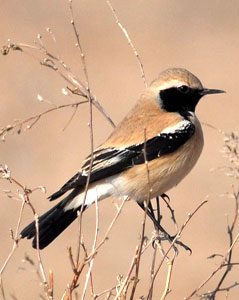 Like the Rann of Kutch in Gujarat, the Desert National Park in Rajasthan is another unique ecosystem in India. Both possess certain similarities with some common avifauna species. The greatest dissimilarity is that while the Rann is flooded with monsoon water annually, the Desert National Park receives scanty and erratic rainfall, therefore, it is the natural home to the xerophytic vegetation which is of diverse character sustaining the very life of people, cattle and of course the wild life. Despite uniformly adverse climatic conditions, the desert exhibits distinctive micro-topographic variations and highly specialized plant communities. The park is envisaged to conserve the Desert Ecosystem. Located within Jaisalmer and partly in Barmer districts, on border with Pakistan, nearly 3,000 sq. km of the Park's vast landscape — sand dunes, grass land, low bushes, clumps of trees, tiny scattered hamlets called villages — faces continuous challenge for adequate conservation.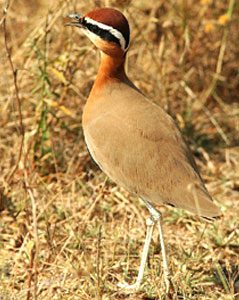 We use jeeps to go into the desert park and have to be patient to locate birds as density is low. We can walk as much as we like to (no restriction here). The drive is more rewarding during morning and afternoon sessions when birds move around; mid day can be at a self decided halt for lunch when some species can appear all of a sudden.
The flag ship species in this habitat is the Great Indian Bustard.  It is a tall bird seen through the grass cover, generally keeping its beak towards the sky, extremely shy. It is the State Bird of Rajasthan. Houbara, another bustard species, is migratory and can be located here though with challenge (VIGT's Harsh Vardhan has  a unique record to conserve Bustards: 'Bustards In Decline' by Paul D. Goriup & Harsh Vardhan).
It is undoubtedly the raptor country. They are to be observed in air, over the tree tops, over telephone poles and electric wires and often on ground, consuming the prey. The food is in abundance – birds, insects, rodents, lizards etc. The common sight is Laggar Falcon which breeds here. Peregrine Falcon is in its beautiful form. Merlin can be a rare visitor.
Eagles are in good numbers: Short-toed, Steppe, Imperial, Tawny and possibly Booted as well. Long-legged Buzzard, White-eyed Buzzard, Kestrel, Sparrow Hawk, Shikra, and Harriers are common sight. Vultures present their best sightings here, which declined in the country in recent years: White-backed, Long-billed, Egyptian, Red-headed, Cinereous, Griffon. All the vulture species are possible to be framed in a single photo-click. Black Kite, and Black-shouldered Kite can not be missed. Spotted Owlet, Barn Owl, Short-eared Owl and Dusky Eagle Owl are the nocturnal raptors here. Chesnut-belied Sandgrouse and Black-bellied Sandgrouse are great delight, generally observed feeding on ground or flying in hundreds.

Not to miss species here are: Jungle Crow and House Crow, Common Raven, Purple Sunbird, Jungle and Large Grey Babblers, Hume's Warbler, Plain Leaf Warbler, Desert Warbler, Orphean Warbler, Lesser White-throat, Common Chiffchaff, Plain Prinia, Jungle Prinia, Graceful Prinia, Rufous-tailed Shrike, Bay-baked Shrike, Long-tailed Shrike, Common Wood Shrike,  Northern Grey Shrike, Black-crowned Sparrow Lark, Greater Short-toed, Bimaculated Lark, Singing Bush Lark, Crested Lark, Indian Bush Lark, Ashy-crowned Sparrow Lark, Rufous-tail Lark, Oriental Sky Lark, Greater Hoopoe Lark, Yellow and Grey Wagtail, Paddyfield Pipit, Tawny Pipit, Long-billed Pipit, Desert Wheatear, Isabeline Wheatear, Variable Wheatear, Rufous-tailed Wheatear, Rosy Starling, Brahminy Starling, Common and Bank Myna, White-cheeked and Red-vented Bulbul, Silver-billed Munia, Red Avadavat, Barn Swallow, Wire-tailed Swallow, Common Stonechat, Pied Bushchat, Grey Bushchat, Stoliczka's Bushchat, Indian Robin, Grey-headed Canary Flycatcher, Red-throated Flycatcher, Rufous Treepie, Little Green Bee-eater, Blue-tailed Bee-eater, Blue-cheeked Bee-eater, Indian Roller, Hoopoe, Woodpeckers (Brown-capped Pygmy, Grey-headed Pygmy, Yellow-crowned, Black-rumped Flameback), Grey Francolin, Black Francolin, Jungle Bush Quail, Coppersmith Barbet, Asian Koel, Greater Coucal, Rose-ringed Parakeet, House Swift, Eurasian-collared Dove, Laughing Dove, Red-collared Dove, Demoiselle Crane, Indian courser, Cream-coloured Courser, Red-wattled Lapwing, Black Drongo, Chestnut-shouldered Petronia, House Sparrow, Indian Peafowl etc.
Gazelle: Bird watching sessions are punctuated by sights of Indian Gazelle, numerous species of rodents, hare, reptiles, dominated by Spiny-tailed Lizard, Common Krait and Saw-scaled Viper.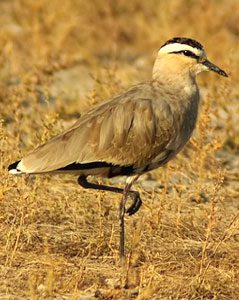 Khichan
A tiny village, Khichan has gained popular appeal amongst bird watching community following a section of local people offering grains to birds every morning, which attracted Demoiselle Cranes to usurp the feed of other birds, so to say. And the Cranes are in thousands. It is great spectacle to watch these Cranes touch down at an especially created rectangular enclosure for their morning breakfast. The feeding session lasts for an hour and a half, one group takes off and another settles. Their flight in the backdrop of the traditional mansions of the village presents wonderful opportunities of photo-sessions. The feeding birds in the ground are at hand shaking distance from us. We are offered vantage positions over the terrace of local innocent looking people who feel proud doing so.
The Demoiselles spend their day at couple of water bodies towards north of Khichan. They go to far off agriculture fields to roost and can be sighted returning to the same water bodies early morning. A dozen other common bird species surround them here, dominated by Peacocks.
Some vantage tracks are available around Khichan to offer us enhanced opportunities for birding. Khichan is combined with drive to and fro Jaisalmer, it is near Phalodi (Jodhpur district of Rajasthan). Half day at Khichan and remaining half day in adjoining desert habitat is sufficient.
Jor Beed
This place has no existence on any map. However, it is of great worth — a municipal dump yard attracting hundreds of Vultures seen soaring from a distance. White-backed, Long-billed, Egyptian, Red-headed, Cinereous, Griffons,  all congregate as though celebrating a ceremonial feast in about half sq. km area of flat desert landscape. The Steppe Eagle is surprisingly found amidst them, pirating audaciously the feed. Crows, Black Ibis, Black Kites take cue from this determined Eagle. Some rare species often appear here like the Yellow-eyed Pigeon.
The place is near Bikaner city, which is noted for the Lalgarh Fort which has gold painted walls and finely chiseled stone construction. Goddess Durga's temple at Deshnok is another landmark here. It can be an extension of Khichan. Over night stay at Gajner Palace can be a real royal treat, Wall Creeper was reported at this palace in February 2010 (Robert Oates, Stephen Dean, Jim Lyons and John).
Tal Chhapar
A tiny flat habitat is meant for walking to explore some impressive bird species: Larks, Pipits, Vultures, Demoiselle Cranes, Indian Courser, often Sociable Lapwing and Eagles, Steppe is in numbers while Tawny is a pair, Black-shouldered Kite, Kestrel, and as luck would add to us. Some out of the habitat birds have been reported from this place. A basic forest rest house has been in service.  It is between Jaipur and Bikaner (by road) is recommended on the Thar Desert trail