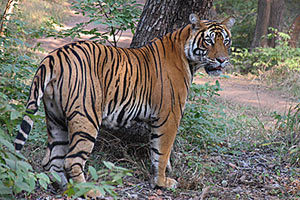 Ranthambhor Tiger Reserve is one of the first nine reserves designated for tiger conservation in India. It is located in Sawai Madhopur district in the Rajasthan. The forest has mixed conservation history and is geographically separated from other forests barring narrow corridors with Keladevi Sanctuary and Sawai Mansingh Sanctuary.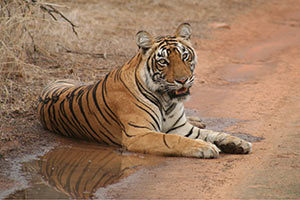 The reserve is at the junction of the Aravalis and the Vindhyas, hence a unique juxtaposition of natural and historical richness. It spreads over a highly undulating topography varying from gentle to steep slopes; from flat topped hills (Indala, Doodh-Bhat and Chiroli) of the Vindhyas to the conical hillocks and sharp ridges of the Aravalis; from wide and flat valleys (Lahpur, Nalghati, Khachida, Anantpur etc.) to narrow rocky gorges.
The Sawai Madhopur Wildlife Sanctuary of 392.5 sq. km. was converted in to Project Tiger Reserve in 1973. Then it was being managed as the core and the rest as buffer until in 1992 when Keladevi Sanctuary (674 sq. km.), Sawai Mansingh Sanctuary (127 sq. km.), Kualji Close Area (7.58 sq. km.) and some other forest areas were added to the Reserve.
The reserve has an ancient fort located amidst it. It has some epoch-making history like the battle led by Raja Hameer against the Mughal invaders in this region. An aerial view of entire forest looks fascinating from the fort which has easy access. Three lakes and several management-created water-holes are life-line for mammals, birds etc. Most sightings of Tigers are around the lakes and the open grassy areas around.
The Park represents northern tropical dry deciduous forests. Dhok is the dominant wild vegetation, it is mixed with Khair, Raunj, Goya, Chhela, Pipal, Vad, Amaltas, Gurjan, Siris Saintha, Gular, Tendu etc.
Mammal: Tiger, Leopard, Caracal, Ratel, Jungle Cat, Chital, Sambar, Blue bull, Chinkara, Sloth Bear, Wild Boar, Jackal, Hyena, Common Langur,  Fox etc.
Birds: The reserve boars of nearly 150 bird species.
Access: By train from New Delhi (5 hrs), from Bharatpur (2 hrs) and Agra (Taj Mahal), from Jaipur (3 hrs). By air (through Jaipur). There is train connectivity between Ranthambhor and Bandhavgarh.