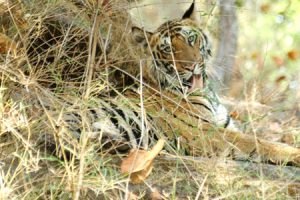 The Pench Tiger Reserve is named after the Pench river, which flows through the Reserve. The Reserve is located in the southern reaches of the Satpura hill ranges in the Seoni and Chhindwara districts in Madhya Pradesh. Here are, in fact, two Pench Tiger Reserves, one in Madhya Pradesh and another in Maharashtra. Both are contiguous forest. But administratively they are separate entities. It is Pench in Madhya Pradesh that is popular with visitors.
The Reserve is situated in an area that holds a significant place in the natural history of Central India. The description of its natural beauty, richness in flora and fauna has appeared in numerous wildlife books dating back to 17th century. Books written in the 19th and early 20th century by famous naturalists like Captain J. Forsyth and Rudyard Kipling explicitly present the detailed panorama of nature's abundance in this tract.
An extensive forest belt extends in three directions, north, east and south, covering forest tracts of Seoni, Balaghat and Nagpur districts. The contiguous forest on the southern side in the Maharashtra state of India, initially notified as Pandit Jawaharlal Nehru National Park has been recently included in the Project Tiger network by the same name as this Reserve. A dam was constructed on the Pench river on south-eastern boundary of the Reserve.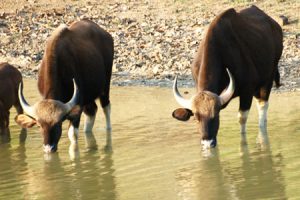 The area is criss-crossed by numerous seasonal streams and nalas. The Pench river flowing through the central line of the Reserve is dry by the April-end but a number of water pools locally known are found, which serve as waterholes for wild animals. A few perennial springs also exist in this area. However, the water sources are not suitably distributed, hence large area remains unutilized by the wild animals. The Pench reservoir at the center of the Reserve is the only major water source during pinch period. As the prey concentration is high along the Pench river, tigers usually inhabit this belt. Leopards, though, generally operate in the peripheral areas but are occasionally seen in deep forests also. Jungle cats are commonly seen. Leopard cats, Small Indian Civets and Palm Civets are common but seen rarely.
Wild dogs are commonly seen in packs near Chhedia, Jamtara, Bodanala and Pyorthadi areas. Wild boar is ubiquitous. Sloth bear occupy hilly, rocky out crops and favour Mahul and Bel dominated forest. Chinkara is present in very small number and is found in open areas around Turia, Telia, Dudhgaon villages. Jackals are seen occasionally around Tekadi, Alikatta and Chhindimatta villages.
Mammals: Tiger, Leopard, Jungle Cat, Leopard Cat, Striped Hyena, Wild Dog, Wolf, Common Mongoose, Sloth Bear, Pangolin, Spotted Deer, Sambar, Barking Deer, Blue Bull, Wild boar, Gaur etc.
Reptiles: Fresh water crocodile, Indian Chameleon, Common Krait, Indian Rock Python, Cobra, Indian Flap Shell Turtle, Peninsular Black Turtle etc.
Access: Drive from Nagpur (2.5 hrs) which is connected by train and air with New Delhi and Mumbai. Drive from Kanha (4 hrs) or from Pachmadi (3 hrs). Pachmadi is connected with Bhopal (3 hrs drive) which has air and train connections).