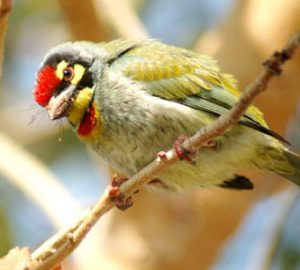 New Delhi: The metropolitan capital city enjoys wonderful birdlife — nearing 450 species. Somewhat adequate follow up can yield about 80 – 100 species from sun rise to sun set around the city. Delhi Ridge (Buddha Jayanti Garden), Old Fort, Delhi Zoo, Okhla Sanctuary at Yamuna River, etc., are the ideal areas within New Delhi while Sultanpur Sanctuary is nearby (47 km away). Start with grass birds – Black Francolin, Striated Babbler, Prinias etc. White-tailed Stonechat can be observed, which is different from the Common Stonechat.
An effort is needed to locate the Streaked Weaver. Open country species like Rufous-tailed Shrike and Oriental Skylark are observed around the reeds where one can come across Bristled Grassbird.
Winter months offer sightings of Spot-billed and Comb Ducks. Ruddy Shelduck can be common while Ferruginous and Red-crested Pochards will need an ideal day to mark attendance. Black Kites will be numerous hovering over dumps. Eurasian Marsh Harrier is often observed flying.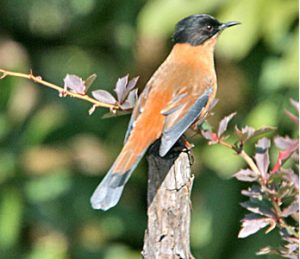 Raptors: Nearly 40 birds of prey have been recorded in Delhi. Oriental Darter, Herons, Egrets, Storks (Painted, Open-billed, Woolly-necked and often Black-necked) are possible to be observed around. Lapwings on the ground and Gulls in the air make interesting sight (Brown-headed, Black-headed and Pallas's Gull).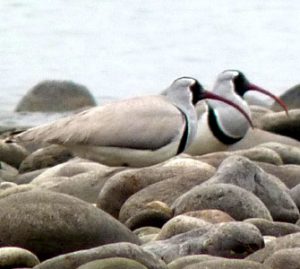 Corbett-Nainital: The Corbett National Park is one of the most outstanding habitats in the subcontinent. Established in 1936, it attained the unique status of the first Project Tiger Reserve in 1973. It is globally acclaimed as unique place to observe nearly 600 species of birds. It is located north east of New Delhi, by drive can take six hours, we can reach by an over night train (a/c sleeper berth) or by morning train also.

Junction: Corbett is the junction for the birds of the lower Himalayas and those of the plains, its numerous hills are contiguous with the Himalayan ranges up in the north, and below them in the south lie the vast grass land areas now cultivated. Ramganga River flows through the park while Kosi River passes through its Eastern boundary, numerous streams keep the area moist in this mixed deciduous forest regime. The density of birds here is low as compared to Keoladeo National Park though variety is greater.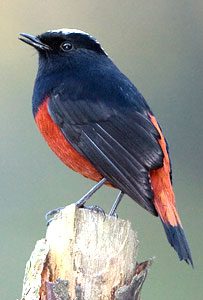 Raptor-paradise: Almost all the species of Vultures in India are spotted in and around Corbett. Black Kite, Long-legged Buzzard, Changeable Hawk Eagle, Mountain Hawk Eagle, Golden Eagle, Imperial Eagle, Steppe Eagle, Rufous-bellied Eagle, Oriental Honey-Buzzard, Crested Serpent Eagle, Common Kestrel, Pied Harrier, Hen Harrier, Pallid Harrier, Peregrine Falcon, Collared Falconet, Grey-headed Fish Eagle, Lesser Fish Eagle, Sparrow Hawk, Brown Fish Owl, Tawny Fish Owl, Asian Barred Owlet, Spotted Owlet, Jungle Owlet, Collared Scops Owl …. feast to the eyes and ears.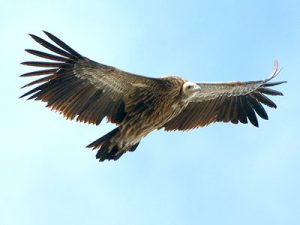 Pheasants: Early morning needs to be reserved for Pheasants: Kalij, Koklass and occasionally Himalayan Monal Pheasants can be followed through the grass, Koklass often on a tree branch; Red Jungle Fowl sightinngs are common; 17 species of Woodpeckers, 5 species of Barbets, 5 Wagtail species, Minivets, Redstarts, Finches, Cuckoos, Babblers, Parakeets, Thrushes and Minlas are to be observed at ease. Oriental Pied Hornbill, Indian Grey Hornbill, and Great Hornbill will offer interesting aerial glides through the tall trees.
Within Core Area: It is great to stay inside the core area of Corbett (Dhikala, any other forest rest house, like Sarapduli, Sultan, Halduparao, Bijrani) to be thrilled by the nocturnal life: identifying Nightjars and Owls by listening to their calls. The unimaginable generally happens during night: Wild Elephants calling. Several open grassland habitat ('chaur') offer relief in this densely wooded habitat to observe ground birds: Pipits, Larks, Wagtails, Mynas, Doves etc. Around the Kosi river, we locate the Ibisbill.
Corbett is noted for its Wild Elephants, Tiger, Leopard, Jungle Cat, Leopard Cat, Sambar, Spotted Deer, Hog Deer, Barking Deer, Goral, Bluebull, Wild Boar, Sloth Bear, Civet, Marten, Otter, Mongoose, Hare etc. Python, King Cobra, Turtles, Tortoise (Sal Forest), Monitor Lizard can be encountered. Gavial and Marsh Crocodile are in the rivers.
October  to March can be ideal for optimum bird watching. The park reopens mid November; prior to that one can stay outside the park to log in most of the birds along the park boundary: Bijrani to Durgadevi and beyond, Bijrani to Betalghat, Ramnagar to
Kaladungi : Kaladungi (off shoot from Bel Padav to Pawagarh and Sita Bani), also around Dhela. A museum in memory of Jim Corbett is located at Kaladungi to take us down the memory lane. This village is between Corbett and Nainital and an interesting habitat,  within miles a hundred species are possible to be logged in, in course of a day, walking is the best.
The best is to have leisurely early breakfast at Corbett and board the open-jeep: the driver and Bird Guide shall carry packed lunch. Off for the entire day's birding extravaganza, stopping at pre-arranged nooks for the lunch halt and for tea sessions as per mood. Return at sun set to the resort for own drinks and well laid out dinner. Good night. And dreaming for the next day's session.
Nainital: Depending on where and how many times to stop along the road to have sudden glimpses of certain birds, we reach Nainital (from Corbett-Kaladungi) to spend minimum two nights at height of about 2,500 meters, where cold is felt even during summer. Several bird niches captivate our mind on this hill station, resplendent with the Raj memoirs: Kilbury, Pangot, Mangoli, Sat Tal, Bhim Tal besides areas around place of stay.
Lammergeier, Himalayan Griffon, Crested Serpent Eagle can be the limit among raptors as Nainital region is renowned for Thrushes, Woodpeckers, Barbets, Flycatchers, Sunbirds and hill birds. It is ideal for Pheasants: Cheer, Kalij, Koklass remarkably. Brown-capped Pygmy Woodpecker, Grey-capped Pygmy Woodpecker, Brown-fronted Woodpecker, Stripe-breasted Woodpecker, Yellow-crowned Woodpecker, Rufous-bellied Woodpecker, Crimson-breasted Woodpecker, Himalayan Woodpecker, Lesser Yellownape and Greater Yellownape Woodpecker, Streak-throated Woodpecker, Grey-headed Woodpecker, Scaly-bellied Woodpecker will be on the menu.
Avian Music: Brown-headed Barbet, Lineated Barbet, Blue-throated Barbet and Coppersmith Barbet will be found singing here during the day. Depending on flowering amongst wild vegetation and varying height, several species of Sunbirds, Leaf Birds and Flowerpeckers are to present colours, flitting noiselessly: Purple Sunbird, Mrs.Gould's Sunbird, Green-tailed Sunbird, Black-throated Sunbird, Crimson Sunbird, Fire-tailed Sunbird, Thick-billed Flowerpecker, Plain Flowerpecker, Fire-breasted Flowerpecker; Russet Sparrow, Rufous Sibia, Black-headed Jay and Eurasian Jay to appear frequently.
Drive back to the railway station to occupy the a/c train. What a way to relax after loads of birds over the mental album.
Chambal: Accessing through Agra, we drive (1 hr) to reach the Chambal River to undertake an interesting boat safari and are face to face with a wide variety of land, shore and water birds including some rare raptors. Most birds here are those to be easily observed at Keoladeo National Park.
The Chambal speciality is Indian Skimmer to be observed over the sandy bank of the river – they breed here and present a spectacular sight especially while fishing over the surface of the river, inserting the long dark red bill suddenly into the water and soon returning to the island for a well earned meal. River Lapwing is available here.
Raptors: Sightings of three important raptors here is of great excitement: Osprey, Bonelli's Eagle and Crested Goshawk. The Gangetic Dolphin, Marsh Crocodile, Gavial and Tortoises are common features here. The Dolphin may play truant if it is extreme cold, or depending on depth of water.
Visit the breeding centre for Gavial, Marsh Crocodile and Tortoises at Devri to realise how reintroduction project is gaining success to restore the eco system of Chambal river. You take the young one in hand to examine it. Talab-i-Shahi water body is about 15 minute drive, worth visiting for resident and migratory species, the Sarus Crane standing amidst agriculture fields.
It is a wonderful experience here to be under Indian sun. Couple of hours can be sufficient to boat and walk around to scan the birds. Studies estimate that total bird species can be more than a hundred. As access is through Agra, let us visit the Taj Mahal, Red Fort, Eitma-ud-Daula, Sikandara etc. Drive couple of hours for over night stay at Bharatpur.
Keoladeo National Park: Thanks to the farsighted Bharatpur rulers who created, the Ajan Bund to save the town from recurring floods caused by the Gambhir and the Banganga Rivers. It led to a systematic release of water and consequent flow of fish and growth of aquatic vegetation in the shallow depressions between the dam and the town causing the birds to congregate — loads of feed was thus available for both carnivore and herbivore species. Popularly known as Ghana (dense), the habitat remained a duck shooting preserve for princes and their British guests, the first recorded shoot was in 1902 by Lord Curzon. In 1956 the Government of Rajasthan declared it a Sanctuary, which in 1982 was elevated to the status of a National Park — Keoladeo National Park. It is a World Heritage under UNESCO and a Ramsar Site of international repute for waterfowl.
Flora and Fauna: 379 species of vegetation have been recorded here, of these more than 150 species are aquatic, including the rooted, submerged and floating. More than 370 species of birds have been observed here, of these nearly 120 species are migratory. The flora and avifauna appear to be striking a natural balance, in numbers as well. About 45 species of fish are found here, several species getting replenished through the annual supply of flowing water. Nine species of Turtles flourish here, it is a treat to observe their forays during the summer when water is scarce. Sambar, Bluebull, Spotted Deer, Wild Boar, Jackal, Hyena, Porcupine, Mongoose, Jungle Cat, Civet, Toddy Cat, and Fishing Cat are the prominent mammals. Monitor Lizard, Garden Lizard, Snakes, Rock Python etc are reptiles commonly observed.
Keoladeo is one of the most user-friendly parks. One can walk all over the park, or go by bicycle. Using a cycle-rickshaw is comfortable, it can go up to the tri-junction of three main roads, which is almost the central point of the park. Visiting hours are from sun rise to sun set, one can spend entire day in the park.
Woodland: Let us commence the session at sun rise. Through the rickshaw, we scan both sides of the main road to receive, at each step, the bountiful diversity of avifauna in this small size park, one third of which is aquatic. The first stretch is wood land and we come across Mynas, Pigeons, Doves, Woodpeckers, Bee-eaters, Treepie, Drongo, Rose-ringed Parakeet and some raptors like Owls (at day break), Black Kite as also Black-shouldered Kite. In the ground, Francolin, and Babblers catch our attention by their piercing calls. Thrushes and Bluethroat are possible around the bushes. A solitary Nightjar standing out as a wonderful novelty as well.
There are shallow lakes dotted by Acacia plantations over earthen mounds, heronry at its best, each tree hosting nearly 50-60 birds belonging to half a dozen species. The air echoes with calls of young ones constantly demanding feed which the parents fetch from quite a distance, one by one.
Egrets, Herons, Cormorants, Storks (Open-billed, Painted, Woolly-neck and Black-neck Storks), Spoonbill, Ibis etc are over the Acacia trees; Comb Duck, Pygmy Cotton Goose (Cotton Teal) and Lesser Whistling Duck breed in tree-hollows, while Spotbill Duck, and Purple Moorhen, Indian Sarus Crane, Little Grebe, Jacanas breed in watery grass habitat. All these species are easily to be observed almost at hand-shaking distance from the trail used by visitors.
Around the lakes we witness the aerial performances by most colourful Kingfishers: Common, White-throated, and Pied. They are also perched over road side branches looking steadfastly at the water surface for any movement, to swoop down to obtain fish, frog or insect. They can keep a photographer busy throughout the day. River Tern and Black-bellied tern are scarce in the sky.
Migratory Species: By the time the resident species accomplish their family making initiatives (August-October), it is time for the migratory species to trickle into the park, time when the aquatic vegetation matures, thanks again to the receipt of flowing water. They reach here in large numbers: Garganey Teal, Northern Pintail, Northern Shoveler, Common Teal, Common Coot etc. Hoard of Waders congregate during the same time like Black-tail Godwit, Spotted Red Shank, Green Shank, Common Green Shank, Common Red Shank, Wood Sandpiper, Marsh Sandpiper, Common Sandpiper, Little-ringed Plover, Kentish Plover, Little Stint, Temminck's Stint, Black-winged Stilt, Snipes (Common, Painted, Jack and Pintail) etc. Raptors mark attendance at the same time: Marsh Harrier, Pied Harrier, Pallid Harrier, Greater Spotted Eagle, Bonelli's Eagle etc. Wagtails are seen in aquatic areas: Citrine, Yellow, Grey, White, White-browed. Black Bittern, Yellow Bittern, Great Bittern and Cinnamon Bittern are amidst the aquatic reeds and it is quite a task to locate them, which our Guide does.
Gadwal, Eurasian Wigeon, Red-crested Pochard, Common Pochard, Ferruginous Pochard, Tufted Duck, Bar-headed Geese, Gray-lag Geese, Mallard, Common Shelduck, Rudy Shelduck reach here by November and complete the picture. Baikal Teal and Falcated Teal are also recorded here.
With the arrival of ducks, number of Bonell's Eagle, Greater Spotted Eagle, Imperial Eagle, Booted Eagle and Steppe Eagle increases here. Common Kestrel, Red-necked Falcon, Peregrine Falcon, Northern Goshawk, Besra, Shikra, Sparrow Hawk etc are then observed across the park-sky as also observed prominently occupying the top of the trees within the park. Vultures, one time common in the park, now are extremely scarce and we can be happy to observe Long-billed, Scavanger and Red-headed Vultures. The Black Kites can be any compensation. Both Lesser Spotted Eagle and Short-toed Eagles are resident species here, breed during the summer. Common Cranes reach here along with the migratory ducks to be observed at the edges of park lakes.
All such birds are possible to be spotted across the lakes; the road up to the tri-junction offers the maximum, stopping at Sapan Mori as also at places of one's choice. We are on foot beyond the tri-junction, where the rickshaw-driver shall wait for our return. The Bird Guide leads us towards the grass land habitat (Koladhahar), can be about 8-10 km walk, round trip (water bottles are carried along). It is birding limitless as we cover almost all the lakes.
Around Bushes: Several Warblers are worth trying around the bushes: Dusky Warbler, Smoky Warbler, Clamorous Reed Warbler, Grass-hopper Warbler, Hume's Warbler, Greenish Warbler, Orphean Warbler, Common Chiffchaff, Lesser Whitethroat etc.
Notable Flycatchers to be searched across the bushes are : Verditer Flycatcher, Grey-headed Canary Flycatcher, Paradise Flycatcher, Red-throated Flycatcher, White-browed Fantail Flycatcher etc.
Small Minivet displays its brilliant colours over the tree tops. Iora, Shrike, Thrush, Ruby Throat (both Siberian and Blue), Robins, Chats, Starlings, Mynas, Creeper, Nuthatch, Swallows, Bulbuls, Prinias, Babblers, Larks, Pipits, Sunbird, Sparrows, Wagtails, Weaver birds, Munias, Finches, Buntings, Pigeons, Doves, Parakeets are among other species to keep us on the constant chase. Red-wattled Lapwing distracts our attention by its intermittent calls, and is generally around us. White-tailed Plover, Grey-headed Lapwing, and Northern Lapwing are possible to be logged in. The Guide takes us to such distant extremely dry and open land to possibly show through spotscopes two significant birds : Indian Courser and Sociable Lapwing! Chestnut-bellied Sandgrouse is found in this region.
Owls during Day: Owls are possible to be observed and photographed any time of the day. Spotted Owlet, Collared Scops Owl, Brown Hawk Owl, Dusky Eagle Owl, Barn Owl are observed; on record here are Jungle Owlet, and Mottled Wood Owl. Sirkeer Malkoha and Greater Coucal are across the grass. Drongo Cuckoo, Asian Koel, Common Hawk Cuckoo, Plaintive Cuckoo, Grey-bellied Cuckoo and Pied-crested Cuckoo cannot be missed as they call to serve alert.
Brown-headed and Coppersmith Barbets are common. Wookpeckers include Black-rumped Flameback, Brown-capped Pygmy, Grey-capped Pygmy, Brown-fronted, Yellow-crowned. Eurasian Wryneck and Spotted Creeper are over the trunks
Incredible Density: It can be a long day, at dusk  we return satisfactorily to the lodge. We discuss our objectives with our Bird Guide and plan our stay in a way that we cover the maximum species possibly by walking the least and in minimum time. The bird-density in this park is remarkable, can be about 1,500 birds per sq. km, even more in the aquatic regime.
Ecological Cycle: Flowing water is most consequential for survival of this park's ecology as it is received traditionally from the Ajan Bund, which receives it from the Gambhir River (the Banganga River does not flow now a days). Gambhir's flow has been cut off following construction of Panchana Dam in Karauli district (since 2004-05) leaving the park languishing for annual supply of water (550 million cubic feet). Harsh Vardhan has been singularly responsible to have taken up this issue, pressed it before the government authorities and challenged it before the Supreme Court's Centrally Empowered Committee (2003-04) which favoured release of flowing water to the park.
The water-situation has not eased so far and the Park remains at the mercy of rain god, alas. The habitat of Keoladeo Park is undergoing changes following inadequate receipt of flowing water and erratic monsoon. Therefore, optimum birding conditions depend on sufficient availability of water or abundant rainfall. VIGT always reports such issues over the email or telephone to those desirous to know more the actual ground conditions. It is to maintain transparency and not let visitors remain in dark.
In order to secure optimum birding, it is worthwhile to stay minimum three nights here. Extended stay takes us to Bund Baretha, Kot ka Thana, Talab-i-Shahi and Urmila Sagar, four wetlands located outside the park which offer some such species which are hard to observe within the park.
Pong Dam: An annual estimation at Pong Dam Lake Wildlife Sanctuary, a Ramsar Site, has revealed that 1,32,000 waterfowls of 95 different species visited this water body during 2010-2011. Dominant species were Common Pochard (41,200), Bar Headed Goose (23,800), Northern Pintail (13,900), Common Coot (12,200), Great Cormorant (9,400) and Common Teal (6,400). Pied Avocet (10) were noticed for the first time. Common Shelduck (25) was also observed. Other noticeable species were Great Crested Grebe, Black-necked Grebe, Greylag Goose, Red-crested Pochard, Ferruginous Pochard, Common Merganser, Eurasian Spoonbill, Greater White-fronted Goose, Western Reef Egret, Garganey, Black Bittern, Sarus Crane, and Osprey. Most of these birds migrate from their breeding places in trans-Himalaya region in Tibet, Central Asia, Russia and Siberia.
Pong Dam is located in Himachal Pradesh (Kangra district). We can take an over night train at New Delhi reaching Pathankot next morning, drive (100 km) to Dharmsala in hills (a Buddhist town) and then drive down (2 hrs) to reach Nagrota Surian, a tiny village, to commence bird watching at Pong, including a boat ride. Return Dharmsala for overnight. Next day, visit nearby McLeoganj, a celebrated place for the Buddhists, and drive to Shimla, for overnight. Next day, drive to Chandigarh/New Delhi.
Kumbalgarh: Renowned for the Fort that was built (mediaeval time) by a genius Mewar ruler, Maharana Kumbha, Kumbhalgarh Fort cannot be observed from the southern heights of the Aravalli hills as it is located amidst a girdle. It certainly looks imposing when viewed from the northern road that leads to ancient Ranakpur Jain temples. Bird watchers seek shelter below the fort which is dry deciduous forest with heights, gentle slopes and some open grass patches, rugged as the entire scenario is.
Speciality Birding: It is good fun bird watching under the balmy shades of trees, getting out of the jeep, which is not permitted but we like to do (as no one is to object), walking on the stony track to evaluate what is in store for us. Some speciality bird species are possible to be spotted here: Green Avadavat, White-napped Tit, Grey Junglefowl, Red Spurfowl, Indian Pitta, European Roller, Grey-breasted Prinia, Zitting Cisticola, etc.
Other birds to keep us busy for the day are: Gray Francolin, Jungle Bush Quail, Indian Peafowl, Alexandrine and Plum-headed Parakeets, Brown-headed Barbet, Yellow-crowned Woodpecker, White-belied Drongo, Tawny-belied and Yellow-eyed Babblers, Yellow-footed Green Pigeon, Eurasian Golden Oriole, Tickell's Blue Flycatcher, White-browed Fantail Flycatcher, Sulphur-belied Warbler, Grey-breasted Prinia, Rufous-fronted Prinia, Plain and Ashy Prinias, Hume's Warbler, Brown Rock Chat, Pied Bushchat, Blue Rockthrush, Black-lored Tit, Thick-billed Flowerpecker, White-capped and Crested Buntings, Chesnut-shouldered Petronia, Baya Weaver, Indian Siverbill, Common Rosefinch, Minivets etc. Raptors are : Changeable Hawk Eagle, Short-toed Snake Eagle, Crested Serpant Eagle, Spotted Owlet and Jungle Owlet to be attempted.
Kumbhalgarh is dominated by a unique predator – Wolf. Leopard, Indian Fox, Jackal, Hyena etc are around. Sloth Bear often marks its attendance after sun set. Sambar, Nilgai, Wild Boar, Grey Langur, Four-horned Antelope (getting scarce) are other mammals. The Ranakpur Jain temples, remarkable sculpture in white marble, are located nearby, where also birds can be spotted: Barbets, Shrikes, Pippits, Larks etc. To be accessed from Udaipur (two hours drive) or Jodhpur (four hours drive).
Jaipur: The pink city of Jaipur has imposing array of forts, palaces, architecture, stone observatory etc. The city has bird spots too: Nahargarh Biological Park where White-naped Tit is spotted as a speciality among nearly fifty other species besides water birds at a natural pond.
The Grass Farm Nursery offers three specialities: Common Iora, Marshall's Iora and Spotted Creeper. The Man Sagar lake (Jal Mahal) is a fascinating water body and it is the venue of the annual Indian Birding Fair, where numerous water birds and some forest species can be found — 180 species have been recorded here round the year.
Chandlai dam is about 20 km south of Jaipur to surprise bird watchers with its variety of water birds.