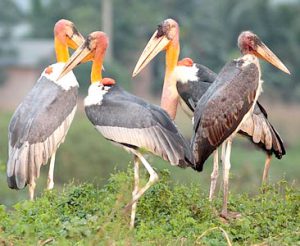 East India is most absorbing and satisfying region for birds and other wildlife. It can be a full fledged tour (two-three weeks) to accomplish about 300 species out of about 600 recorded all around. Here is a brief introduction.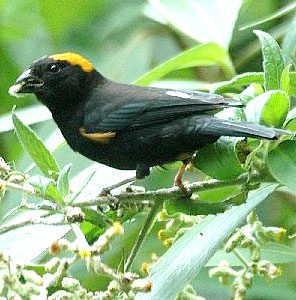 Eaglenest
Eaglenest wildlife sanctuary is in West Kameng district in western Arunachal Pradesh. It is an extraordinary place for birds. The sanctuary covers only 217 sq. km over 3200 m altitude. It can offer several hundred species of orchid and butterflies, almost a 100 species of reptiles and amphibians, mammals including red panda, elephant, serow, capped langur, gaur and spotted linsang and over 400 species of birds.
Eaglenest is a straight line distance of less than 250 km. So a birdwatcher can cover 4500 m of altitude within a day to explore as many as 750 bird species. The habitat will vary – from the marshes of Kaziranga, to the lowland forests of Nameri, including riverine areas, up to the subtropical and temperate broad-leaved forests of Eaglenest, finally to the alpine areas of Dirang.
Ward's Trogon, Beautiful Nuthatch, Rufous-necked Hornbill, Blue-fronted Robin, Chestnut-breasted Hill-Partridge, Blyth's Tragopan, Temminck's Tragopan, Fire-tailed Myzornis, Yellow-rumped Honeyguide, Wedge-billed Wren-Babbler, Long-billed Wren-Babbler, Cutia, Pied Falconet, Purple Cochoa (all inside Eaglenest), Grandala, Black-necked Crane, Ibisbill, Long-billed Plover, Monal Pheasant, Blood Pheasant, Snow Partridge, Wallcreeper (all in Dirang), White-winged Duck, White-cheeked Partridge (all in Nameri), Bengal Florican, Blue-naped Pitta, Black-breasted Parrotbill, Greater Adjutant-Stork, Pallas Fish-Eagle (all in Kaziranga). It speaks volumes that many highly sought-after birds are here. And also are around Coral-billed Scimitar-babbler, Slender-billed Scimitar-babbler, Black-headed Shrike-babbler, Spotted Laughingthrush, Blue-winged Laughingthrush (and 12 other Laughingthrushes), Rufous-breasted Bush-robin, Yellow-throated Fulvetta, Pied Harrier, Scarlet Finch, Grey-headed Bullfinch, White-naped Yuhina, 8 species of wren-babblers, Greater Orange-headed Parrotbill, Streak-throated Barwing, Tesias, Shortwings etc.
The bird that truly put Eaglenest on the world map is the Bugun Liocichla, which remained unknown to science until 2006. The entire known world range of the
species is restricted to a 100 ha patch of secondary forest in Eaglenest and the known population is only about 20 individuals. It was discovered in August 2006 as a brand new species, the first discovered in India after 1948.
An ecotourism venture functions in Eaglenest and visitors receive basic facilities, contributing to welfare of local Bungun tribal people. This area is expected to offer a lot about orchids, butterflies and herpetofauna which the guests are welcome to discover and identify.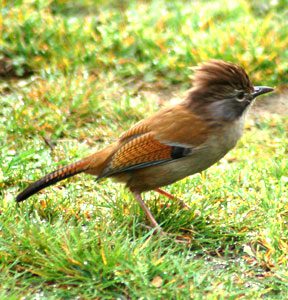 Kaziranga-Nameri
A world heritage site under UNESCO, Kaziranga is a great success story, having conserved the largest grassland habitat in eastern India, keeping it almost undisturbed by human beings. It is home to about two-third of the world population of One-horned Rhino, of Eastern Swamp Deer, and of Asiatic Water Buffalo. Asian Elephants in wild are better spotted here. Nearly 450 species of birds have earned it an additional prestige as it has vast chunks of aquatic habitat, open grass lands, woodland and adjoining hills. The Bengal Florican is possible to be observed here.
There are nearly fifty species found in and around water in this extensively aquatic habitat, such as, Falcated Teal, Ferruginous Pochard, Waders, Storks prominently the Greater, Lesser Adjutant Stork, and Black-necked Stork. Numerous forest birds and those flitting around bushes are available here: Warblers, Flycatchers, Barbets, Bee-eaters, Minivets, Sunbirds, Wagtails, Pipits, and remarkably Streaked Spiderhunter, Lapwing, Swamp Francolin, Bengal Florican etc. There are several raptors: Pallas's, Fish-eagle, Harriers, Grey-headed Fish-eagle among others.
It is excitement-unlimited to be on the back of a domesticated elephant (three-four persons sitting together with the driver in control), going ahead at leisurely pace through tall grass, discovering open country species, their density being low but diversity is remarkable. The morning session is usually with this pachyderm to locate the one-horned rhino which we encounter within minutes of the start of such a safari, and as we go the ground birds are flushed out. There are couple of entry points to this park from the main road (Guwahati to Jorhat road) and within no time we are amidst the sub-Himalayan birds.
Several remarkable species are possible to be observed around the nature resort where we stay, usually through a walk into the tea estate which dot almost entire area outside the park. Oriental Pied Hornbill is quite common around the park. Kaleej Pheasant, Brown Crake, Swamp Francolin, Parakeets, Starlings, Teals, Geese, Green Pigeons, Oriental Hobby, White-browed Scimitar Babbler, Red-billed Common Green Magpie, Black-throated Parrot Bill etc are striking possibilities.
It is possible to explore Hullock Gibbon, India's only ape, in the nearby Panbari reserve forest. We are also amply rewarded to spot the Pygmy Blue-Flycatcher, Grey-bellied Tesia, Striped Tit-Babbler, White throated Bulbul among others.
We need to be in the jeeps all the time barring the morning session with the elephant and cover long distance each day through the dirt track, passing by beels (shallow water bodies) to see Water Buffaloes, Swamp Deer, Wild Elephants, and take a chance with Tiger. The walk through the tea plantations provides a relief from the somewhat lengthy jeep drives and we are welcome to visit local communities engaged in making handicraft including weaving of traditional textiles.
Nameri is a few hours drive from Kaziranga and an added attraction for birders. It is possible to observe Ibisbill and White-winged Wood duck in Nameri, which is located in the sub-tropical vegetation regime. It is a moisture laden area due to nearness to rivers providing prosperous habitat for ungulates and avian species. Several Kingfishers besides Plovers, Barbets, Bulbuls, Mynas, Bee-eaters, and numerous migratory ducks and waders await us here. It is good for raptors as well. Five nights' stay is minimum required (Kaziranga-Nameri) and we stay in a spectacular resort in Kaziranga while basic facility in Nameri. Access to Kaziranga is through Guwahati in Assam (fly in from New Delhi or from Kolkatta) to drive five hours. Nameri is entry to Eaglenest Sanctuary in Arunachal Pradesh.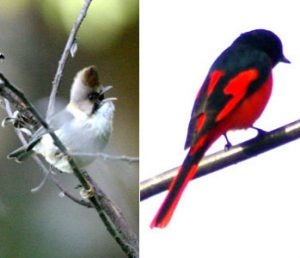 Lava & Neora Valley
It is a great rewarding area for birds. We reach (by air) Bagdogra (from Guwahati or from New Delhi or from Kolkatta). In order to reach Lava we like to proceed to Gurumara Park to scan its grassland habitat and then halt at Suntalkhola Wildlife Sanctuary in the Neora Valley. We can go up to Bindu village on border with Bhutan where Jaldhaka river offers birds. Samsing is the forest office of Neora Valley. Then we drive up to Lava and maximise birding towards Algarah track and towards Tiffindara trail.
Going up north (a mix of jeep and walking) we reach a high point to observe Mt. Khanchendzonga (or Kangchendzonga as is called, 8,598 m) as well. Stay here for three nights is rewarding.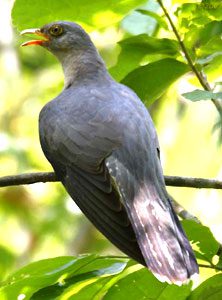 Sikkim
If we wish to experience Buddhist Monasteries we visit Sikkim's authentic destinations: Pemayangtse Monastery, Khechepheri lake and Tashiding Monastery. Observing Mt. Kanchenjunga (Kangchendzonga) and its entire range from Pelling is a stunning experience (usually at sun rise hour and from our hotel room). All these are rewarding places for birding. A sanctuary near Namchi, and another outside Gangtok are ideal for bird watching.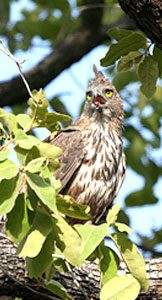 Darjeeling
We drive (5 hrs) from Pelling to reach Darjeeling, a hill station with the Raj nostalgia. Darjeeling is surrounded by lofty mountains, a fascinating place, rich in natural beauty. An early morning visit to the Tiger Hill is worth doing to experience sun rise and soon photograph Mt. Everest, Mt. Kanchendzonga and several other peaks, changing colour with rise of the sun. The view-point is crowded but within minutes all domestic visitors disappear. Tea and coffee are sold by local women. Good fun waiting for birds to appear, we walk around to look for new species. Return hotel for breakfast. The town's bazaar is worth exploring to buy handicrafts and tea. Darjeeling tea is the brand. Makaibari tea? The Zoo and the Mountaineering Institute are worth a visit here.
Trekking to Sandakphu? Or doing it by a vehicle? It is a couple of hour's drive from Darjeeling and shares border with Nepal: Manebhanjan, Tonglu, Jaubari, Gairbas, Sandakphu and finally to Phalut, having a god view of Mt. Everest (8,846 m) from one of the heights. Can return Darjeeling via another route (Rammam, Rimbick, Jhepi, Bijanbari). The Himalayan steam engine train is great fun here, Darjeeling to Kurseong, often driven by diesel engine.
Darjeeling-Bagdogra is about 3 hrs drive back to board flight to New delhi or Guwahati.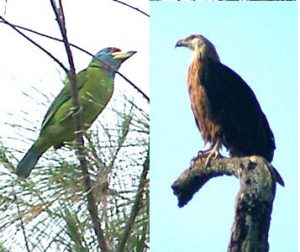 Namdapha
Located in the far east Arunachal Pradesh, until recently known as the 'Hidden Land', is a great destination on border with Myanmar. It is an intensely picturesque and kaleidoscopic terrain, criss-crossed by rivers and rivulets. A range of Climbers, Cane, Bamboo and Orchids are the prominent wild vegetation, nearly 450 species of orchids bedeck the wilderness of the region.
The avifauna represents the Himalayan, Sino-Tibetan and Indo-Burmese characteristics, representing the tropical, temperate and alpine forests. It is estimated that about 660 species of birds are recorded here and many more remain to be discovered. We observe here : Pheasants, Woodpeckers, Shortwings, Parrotbills, Hornbills, Nuthatch, Babblers, Ibisbil, Red-headed Trogon, Woodpeckers, Broadbill, Shrikes, Thrushes, Yuhinas, Fulvetta, Warblers, Flycatchers, besides variety of raptors like Lesser Fishing Eagle, White-bellied Sea Eagle.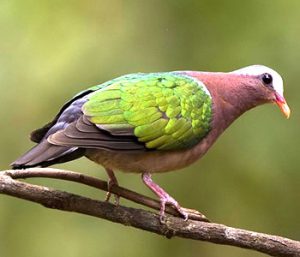 NE Birds: The possible bird species in this tour to NE India can be: Green-billed Malkoha, Greater Coucal, Brown Wood Owl, Asian Barred Owlet, Himalayan Swiftlet, Great Barbet, Golden-throated Barbet, Grey-capped Woodpecker, Greater Yellow-nape Woodpecker, Barn Swallow, Grey Wagtail, Olive-backed Pipit, Black-winged Cuckoo Shrike, Short-billed Minivet, Striated Bulbul, White-cheeked Bulbul, Red-vented Bulbul, Black Bulbul, Bar-headed Goose, Crested Serpent Eagle, Crested Goshawk, Eurasian Sparrowhawk, Eurasian Buzzard, Black Eagle, Mountain Hawk Eagle, Kalij Pheasant, Oriental Turtle Dove, Spotted Dove, Barred Cuckoo Dove, Large Hawk Cuckoo, Common Cuckoo, Large Niltava, Rufous-bellied Niltava, Grey-headed Canary Flycatcher, Rufous breasted Bush Robin, Blue-fronted Redstart, White-capped Redstart, Plumbeous Redstart, Little Forktail, Spotted Forktail, Common Stonechat, Grey Bushchat, White-throated Laughingthrush, Striated Laughingthrush, Grey-sided Laughing Thrush, Scaly Laughingthrush, Blue-winged Laughingthrush, Chestnut-crowned Laughingthrush, Red-faced Liocichla, Spot-breasted Scimitar Babbler, Rusty-cheeked Scimitar Babbler, White-browed Scimitar Babbler, Long-billed Wren Babbler, Rufous-throated Scimitar Babbler, Spotted Wren Babbler, Rufous-capped Babbler, Golden Babbler, Grey-throated Babbler, Silver-eared Mesia, Red-billed Leiothrix, Black-headed Shrike Babbler, White-browed Shrike Babbler, Black-eared Shrike Babbler, Rusty-fronted Barwing, Hoary-throated Barwing, Blue-winged Minla, Chestnut-tailed Minla, Red tailed Minla, Yellow-throated Fulvetta, Rufous-winged Fulvetta, White-browed Fulvetta, Nepal Fulvetta, Rufous Sibia, White-naped Yuhina, Whiskered Yuhina, Stripe throated Yuhina, Rufous-vented Yuhina, Black-throated Tit, Black-browed Tit, Coal Tit, Green-backed Tit, Yellow-cheeked Tit, Yellow-browed Tit, White-tailed Nuthatch, Eurasian Tree-creeper, Rusty-flanked Tree-creeper, Brown-throated Tree-creeper, Green-tailed Sunbird, Fire-tailed Sunbird, Little Spider-hunter, Bay-backed Shrike, Long-tailed Shrike, Ashy Drongo, Hair-crested Drongo , Green Magpie, Grey Treepie, House Crow, Large-billed Crow, Oriental Cuckoo, Maroon-backed Accentor, Chestnut-bellied Rock Thrush, Blue Whistling Thrush, Plain-backed Thrush, Grey winged Blackbird, Grey-sided Thrush, Dark-throated Thrush, Grey-bellied Tesia, Brownish-flanked Bush Warbler, Aberrant Bush Warbler, Tickell's Leaf Warbler,
Buff- barred Warbler, Ashy-throated Warbler, Greenish Warbler, Blyth's Leaf Warbler, Golden-spectacled Warbler, Grey-hooded Warbler, Grey-cheeked Warbler, Chestnut crowned Warbler, Black-faced Warbler, Broad-billed Warbler, Siberian Flycatcher, Rufous-gorgeted Flycatcher, Snowy-browed Flycatcher, White-gorgeted Flycatcher, Little-pied Flycatcher, Slaty-blue Flycatcher, Sapphire Flycatcher, Verditer Flycatcher, Common Myna, Eurasian Tree Sparrow, White-rumped Munia, Plain Mountain Finch, Crimson-browed Finch, Dark-breasted Rosefinch, Dark-rumped Rosefinch, Tibetan Serin, Brown Bullfinch, Red-headed Bullfinch, Gold-naped Finch, Little Bunting and many more surprises.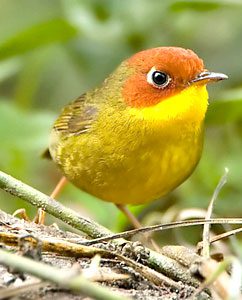 The North East is replete with Orchids, flowers and insects as well. The ideal is not to miss Kazirana and Nameri (450 species with stunning views of mammals), driving from Guwahati which is connected by air with New Delhi, Bagdogra, Kolkata. Then ideally drive to Eaglenest for about a week. Or visit Namdapha, covering Dibru Saikowa Sanctuary along the way to add about a hundred species. Or visit Lava, Neora Valley and/or finish with a driving expedition to Sandakphu (on border with Nepal) to maximise bird sightings. Manas is another significant Tiger Reserve, with loads of birds (Bengal Florican) to be approached through Guwahati.
This region is adjoining Bhutan which can be explored (about 10 hours drive from Bagdogra).