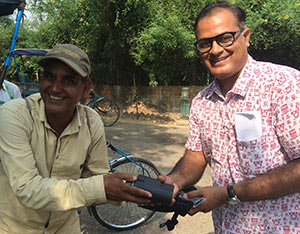 Manoj Vardhan: He manages VIGT, working as self-employed in tourism since early 90s. He has visited UK and Europe several times. He is annually present at the British Bird Watching Fair (Rutland) to offer consultancy on the spot. He often escorts guests to provide his personal services.
Manoj has cultivated the VIGT as the 'Tourism and Conservation Blend:' offering a percentage of tourism-revenue to promote conservation and meet conservation-costs. He has provided khaki uniforms to 205 'casual' Forest Guards of Ranthambhor Tiger Reserve (who were not provided this by the Government), which were formally handed over to them by Ms. Pratibha Patil, the then Governor of Rajasthan, who became the President of India.
He has financed budding bird watchers to travel to bird parks, provided binoculars to Forest Guards and Birdwatchers which are received by him from the Royal Society for Protection of Birds (RSPB), and from OPTICRON, under its support-scheme, as piloted by the WILDFOOT in Britain. He also financially supports  the Indian Birding Fair.
He organises in-bound as well out-bound tours and takes delight in promoting domestic tours.