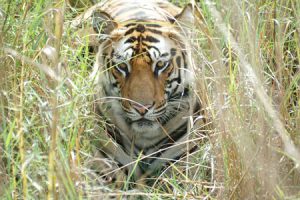 Corbett Tiger Reserve has long history. It is aptly described as the land of the roar (Tiger), trumpet (wild Elephant) and song (birds). It represents a scene of remarkable beauty. Corbett had the proud distinction of being chosen as the venue for the inauguration of Project Tiger in India in 1973. The rich biodiversity of the reserve is partly attributed to the variety of habitat found here. Due to its location in the foothills of the Central Himalayas, both Himalayan and peninsular flora and fauna are found here.
The grasslands are locally known as Chaurs. The largest grassland is the Dhikala Chaur.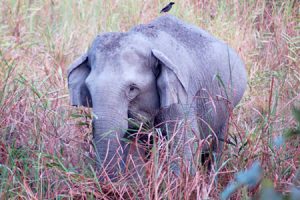 It was originally named as 'Hailey National Park' set up in 1936. It was renamed in 1954-55 as 'Ramganga National Park' and finally in 1955-56 as 'Corbett National Park'. It is the oldest National Park of India. The original area of the Park was 323.75 sq. km. to which 197.07 sq. km. was added later. An area of 797.72 sq. km. was added as buffer of the Corbett Tiger Reserve in 1991.
The Park represents northern moist deciduous, northern tropical dry deciduous, Himalayan subtropical pine forests, prominent being: Sal, Khair, Sissoo, Ber, Kuthber, Bel, Chbilla, Dhak, Semal, Khingan, Kharpat, Rohini, Bakli, Pula and Bamboo.
Mammal: Tiger, Leopard, Elephant, Cheetal, Sambar, Hog Deer, Barking Deer , Wild boar Langoor, Rhesus Monkey, Smooth Coated Otter etc.
Birds: About 600 species of resident and migratory birds have been recorded here. Peacock, Jungle Fowl, Partridges, Pheasants, Vulture, Parakeets, Laughing Thrush, Orioles, King Fishers, Drongo, Doves, Woodpeckers, Ducks, Teals, Storks, Cormorants etc., it is a paradise of raptors.
Reptiles: Marsh Crocodiles, Gharial (Gavial), King Cobra, Common Krait , Cobra, Russel, Python, Monitor Lizard etc.
Fish: Mahaseer, Kalimuchi, Kalabasu, Chilwa and Goonch.
Access: By road from New Delhi (6 hrs), by over night train and day train from New Delhi (7 hrs). Stay at park's periphery where resorts are located and Kosi river flows by the same belt to offer bird watching. Also stay inside the park in forest rest houses, a nice experience. Naini Tal, a hill station, is about an hour's drive, a fine bird watching area.