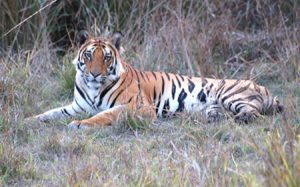 It is the pride Tiger Reserve in India. It is named after the highest hill Bandhavgarh Fort (807 m) located amidst the forest. The Park is between the Vindhyan hill range and the eastern flank of Satpura hill range and is located in Umaria district of Madhya Pradesh (Central India).
The Sal and bamboo cover plain tract and degenerates in growth and quality as it ascends the hill slopes, further giving place to mixed forest on upper slopes, mainly due to edaphic factors.
The Bandhavgarh Fort was the seat of rulers of Rewa State, until they shifted to Rewa town in 1617. Maharaja Martand Singh of Rewa (who had discovered the first White Tiger around Rewa in fifties) was instrumental to get it declared as National Park in 1965.
Bandhavgarh is an excellent habitat of tiger and is known for their high density. It was included in the Project Tiger network in 1993. The area of 105 sq. km. was finally notified in 1968. Panpatha Sanctuary (245.847 sq. km.) was notified in 1983. Sal, Saja, Dhauda, Tendu, Arjun, Aonla, Pals, Salai, Bhirra, Khamer, Dhaman, Mango, Jamun, Bamboo, etc are the main floral components..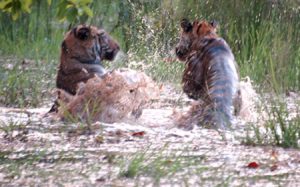 Mammals: Spotted deer or Chital, Sambar, Barking Deer or Muntjac, Chausinga or Four-horned antelope, Nilgai or Blue bull, Indian Gazel or chinkara and Tiger, Leopard, Wild dog or Dhole, Wolf besides Hyena, Jackal, Wild boar, Sloth Bear, Common Langur, Rhesus monkey etc.
Birds: As many as 250 species of birds have been identified in the Reserve.
Reptile: Cobras, Kraits, Vipers and Python.
Access: Access is by overnight train from New Delhi or Agra or Jaipur (reaching Umaria or Katni). Drive to reach Tala village, where all resorts are located and which is entry to the park. By air, reach Jabalpur and drive (4 hrs) to Tala. Can reach by road from Khajuraho (5 hrs). Proceed by road only to Kanha Tiger Reserve (6 hrs) to experience more the Central Indian Tiger Reserves.